A tragic plane crash has killed at least 68 of the 72 people boarding a flight from Kathmandu, capital of Nepal, this Sunday. This latest report was provided by Prem Nath Thakurspokesperson for Kathmandu Tribhuvan International Airportwho is part of the rescue operation.
The aircraft, an ATR-72, crashed just 20 minutes after taking off from Kathmandu, around 10:30 a.m. (local time), when he was heading to the airport in the Pokhara district, a very popular tourist center in the country, some 200 kilometers west of the Nepalese capital. In accordance with Sudarshan Bartaulaspokesperson for Yeti Airlinesthe trip had an estimated time of less than half an hour, so the accident occurred when the plane was trying to land.
After the plane crashed, it began to catch fire, so rescue work in Nepal is complex. Photo: AFP
For her part, the Nepal Civil Aviation Authority It has reported that the passengers included 53 Nepalis, five Indian citizens, four Russians, one Irishman, one Australian, one Argentine, two Koreans and one Frenchman. In addition, four crew members were on board.
At the moment, several videos have been published on social networks, which have been attributed to the plane crash. Smoke is shown rising from the area where the plane would have crashed, as well as its burning wreckage.
Following this air disaster, the Nepali government convened an emergency meeting and formed a five-member commission of inquiry under the leadership of the civil aviation authority. Likewise, a day of national mourning for the victims has been declared.
This event constitutes the second air accident in the country in less than a year, after on May 29 a plane from the Tara Air company crashed in the town of Jomsom and all 22 passengers on board died.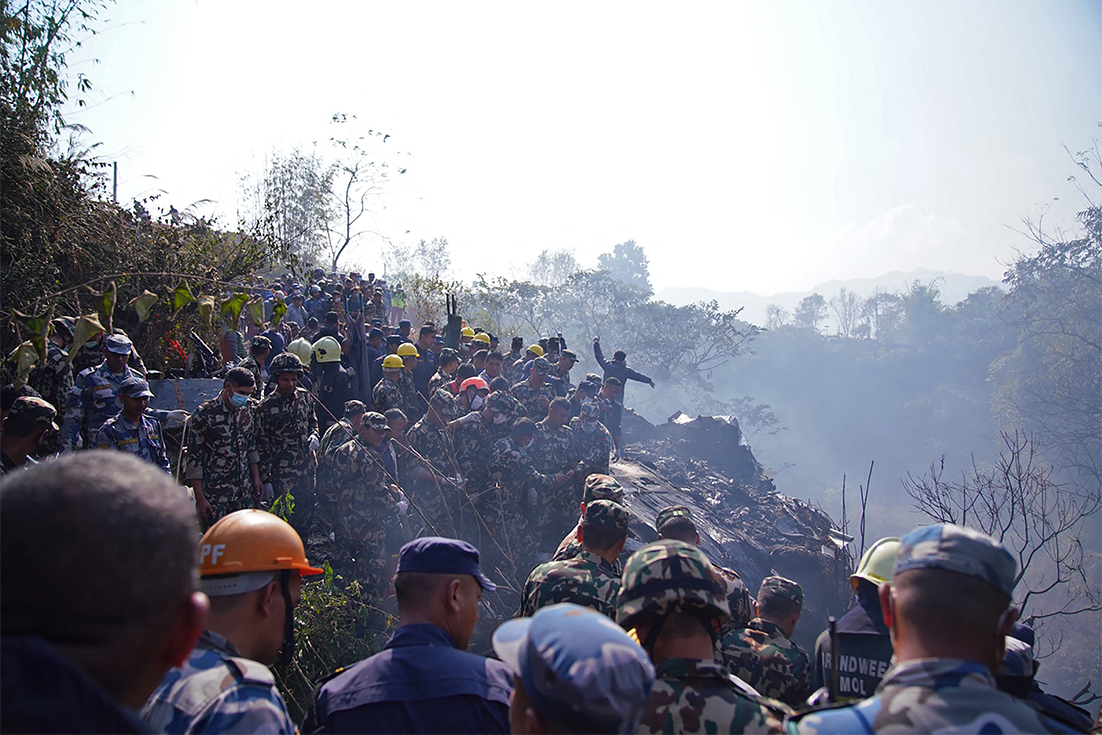 So far, aid personnel have been searching for survivors or corpses after the plane crash in Nepal. Photo: AFP
The frequent plane crashes in Nepal They have led it to be subject to constant international sanctions for the lack of controls. Since November 1960, when the first air accident in the country was recorded, more than 900 people have died in events of this type, according to statistics from the country's civil aviation agency. Among the main causes of air accidents would be the lack of staff training and have one of the remotest airstrips and complicated in the world.
Due to these figures, the European Union has banned Nepali airlines from accessing its territory since 2013.
With information from EFE and AFP.
Source-larepublica.pe