Although today the Peruvian actor Andrés Wiese is far from the small screen, through his social networks he does not hesitate to share his day to day with his almost two million followers. In this way it is known that the Janick Pot couple He is no stranger to the current situation in our country, so he does not stop sharing different posts on this topic.
YOU CAN SEE: How old is Andrés Wiese and how tall is he really? [VIDEO]
It is worth mentioning that many of the fans of the América Televisión telenovela expected that the actor who gave life to Nicolás De las Casas in In the background there is roombe part of the 2022 season, that was not possible since the young actor confessed that he would not be part of the cast.
However, the popular 'Ricolas' He has not missed the opportunity to congratulate all his former colleagues for the excellent work they do in the production of the América TV program. Today in The popular We will tell you a little more about the beloved actor Andrés Wiese.
10 things you didn't know about Andrés Wiese.
1.- Date of birth
Andrés Augusto Wiese Ríos was born in Lima on December 16, 1983 and is about to turn 39 years old.
2.- Family
Andres Wiese He is the son of Augusto Fernando Wiese Moreyra and Ana María Ríos Dunn. He is the grandson of financier Augusto Felipe Wiese de Osma, president of the Wiese Group, great-grandson of banker Augusto N. Wiese, great-great-grandson of former foreign minister Felipe de Osma y Pardo and descendant of diplomat José Gregorio Paz Soldán and doctor Melitón Porras Díaz.
3.- Studies
He completed school studies at the Alexander Von Humboldt German Peruvian School. Later he began his architecture career at the Peruvian University of Applied Sciences, which did not end up giving priority to his acting workshops.
4.- Debut on television
Andres Wiese He debuted on television as the antagonist of the soap opera "La pre" in 2008, where he shared scenes with the singer Deyvis Orosco.
5.- Film debut
Also a model, in 2014 he made his film debut in the film At 40 directed by Bruno Ascenzo in which he shared roles with Carlos Alcántara and Gianella Neyra. The film achieved collection records, being the second most viewed film in the history of Peruvian cinema.
6.- Nominations
The Peruvian artist in 2020 was nominated for the most beautiful face in the world by the agency T. C. Candler.
7.- Social Work
Andres Wiese He shares with his thousands of fans that he is collaborating with the Peruvian Cancer Foundation. And he does not hesitate to ask Peruvians to also collaborate with this social work.
8.- Complaints
In 2020, a teenager denounced the actor Andrés Wiese because he would have sent her intimate content through his social media account, according to the program. Magaly TV, the firm. After a chat between Andrés Wiese and a 17-year-old girl came to light, Mayra Couto reported that the actor was also harassing her.
9.- Romance
After two months full of speculation and images of Janick Mace and Andres Wiese together in different places in the capital, a long trip to Thailand increased the rumors about a relationship between the two. And although none has given any type of statement about this romance, they do not hesitate to show love on their social networks.
10.- Social Network
If you want to know the day to day of the Peruvian actor you can follow him on his official Instagram account as "andreswiese_r".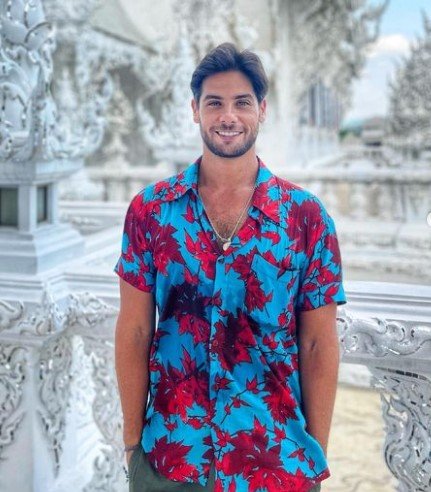 Source-elpopular.pe