Did the night come? Anthony Aranda is on everyone's lips after being seen at the Ministry of Women and Vulnerable Populations for the first time, after abruptly leaving EEG after legal problems between Melissa Paredes and Rodrigo Cubaand now it seems that it would not go well for him, as he could be under investigation.
YOU CAN SEE: Anthony Aranda is captured in the Ministry of Women, did he accompany Melissa Paredes or was he summoned? [VIDEO]
Via Instarandula, Samuel Suarez He had shared the images that his 'ratuja' sent him about the last whereabouts of the dancer, who has been keeping a low profile since his partner was prohibited from approaching less than 100m from his daughter, and now he reflected on it.
In the stories of the official account of Instagram of his platform, the journalist did not rule out that the couple Melissa Paredes is now under the scrutiny of the law, in the midst of the legal problems that exist with Rodrigo Cubaand revealed that in reality Anthony Aranda yes, he could be being investigated after going to the MIMP.
"It left me thinking about the publication made by El Popular. Was he accompanying Melissa or was he summoned? We don't know, but yes, she was in the Women's Ministry, that's very clear. When the ratuja sent me the images, I said: 'What are you doing here?'", he specified. Samuel Suarez.
"I understand that Melissa is her partner and she is going to accompany her to her efforts for all the paperwork that there is, she is in trouble because of the complaints she has been making, now she is denouncing the cat's mother and many things, but it is very strange to see there Sit the Activator Cat in the Ministry of Women, "he added.
After these words, Samuel Suarez acknowledged that he tried to obtain more information about why the presence of Anthony Aranda in the Ministry of Women and Vulnerable Populations, but finally could not get anything. "I asked the ratuja who sent me if Melissa was there, she didn't answer me, it seems that she didn't see anything, so what happened there?" She concluded. Could it be that a process was initiated against him?
YOU CAN SEE: Ale Venturo gives his support to Gato Cuba in the midst of problems with Melissa Paredes: "Always forward"
Anthony Aranda is captured in the Ministry of Women, did he accompany Melissa Paredes or was he summoned?
Through the Instagram stories of instarandulathe journalist had released images that a follower sent him, where you can see Anthony Aranda in the Ministry of Women and Vulnerable Populations, sitting while waiting to be called.
"Samu, I'm sending you this video because I just saw Anthony Aranda waiting at the Ministry for Women," the message could be read, to which Samuel Suárez added: "Yesterday the ratuja was very attentive to the activator, who was surely waiting to your driver."
YOU CAN SEE: Melissa Paredes reappears next to Anthony Aranda, and Peluchín assures: "They have seen her emaciated" [VIDEO]
Anthony Aranda seeks Melissa Paredes after losing custody of his daughter
The dancer Anthony Aranda after leaving social networks has been captured again in front of the home of the model Melissa Paredes, who has a restraining order for her daughter and cannot be near her within 100 meters, something similar to what Her ex-partner Rodrigo Cuba has lived for two weeks.
For a long time the 'Activator Cat' has been captured by the cameras of Magaly Medina In front of his partner's house, as is known, the dancer has not been shown on any of his networks after the broadcast of the audio in which Melissa Paredes and Rodrigo Cuba talked about very sensitive issues, he even stopped appearing on the TV show This is war.
The famous Urraca, after having shown the images, did not hesitate to pronounce on the Activator and pointed out that he may have been taking care of the house: "While all this is happening, the Activator arrives at Melissa's apartment… he leaves his motorcycle there, he is not with him, it seems that he is taking care of the house."
YOU CAN SEE: Ethel Pozo reveals that Melissa Paredes introduced her to Anthony Aranda: "There was a lot of education" [VIDEO]
Janet Barboza mocks Activator's admission to EEG: "He prayed to the virgin and the miracle was done"
In America Todayand true to her style, Janet Barboza was dispatched with everything when remembering that she predicted that the Kitten Activator, Anthony Arandait would be pull of This is war 2 weeks ago, and nothing was saved when he mocked his arrival on the program with everything.
"He prayed to the Virgin of the Dispossessed and it was done. All roads lead to Rome. 15 days ago he had been saying that he was going to end up in a reality show. With the Virgin of the Dispossessed, the Miracle was made to Anthony Aranda", said.
YOU CAN SEE: Peluchín explodes against Anthony Aranda after entering EEG: "It was done to the seeker of fame!"
Paula Manzanal wrote to Melissa Paredes about Anthony Aranda: "So she knows who she was messing with"
Paula Manzanal found herself on everyone's lips after it became known that Anthony Aranda almost traveled to Spain to live with her, before the ampay with MElizabeth Paredes, and now he was surprised to say that he communicated with the latter. Everything was revealed in the latest edition of América Hoy, this Tuesday, February 8. Initially, the model announced that she first spoke with the dancer, to tell her to take care of her since she was a married woman, but that he decided to simply remove her from everywhere.
Due to this fact, Paula Manzanal She was indignant since she considered that she was a great friend of Anthony Aranda, to later surprise when telling that he also wrote to Melissa Paredes, leaving in shock with what he said. "I didn't show him the conversations, but I told Melissa that one day we talked, so you know, I don't want anything with him. Now I'm with my partner, on another side of the world. He hasn't asked me to delete the photos with Anthony," he said.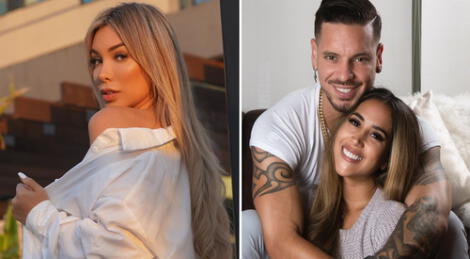 Source-elpopular.pe