It is always said that parents should be the example of their children. This is the recent case of one who had to go to apologize for a robbery that his offspring had committed. What did he do? The girl stole a laptop, a cell phone and two chargers from a health and beauty center.
It all started because the video of his daughter's robbery was made viral in social networks. Thus, the father of the family realized that it was his daughter and arrived the next day, leaving two letters, one from him and the other from his daughter. Also, about 200 thousand dollars.
"We want to tell you that today they have returned what was stolen. The father of the girl in the video, almost crying, brought us everything," the center said on its social networks. In addition, they reported that they accepted the apology, but not the money that the man wanted to deliver.
The father's letter
"Ma'am, I'm sorry that my daughter stole your computer and cell phone. My daughter is sick. Please forgive her. She doesn't have a job, but she does have a son and that's why she stole. It is not justifiable. A thousand times sorry, I hope she understands me. She is having a very bad time. She makes me very ashamed. Excuse me, I don't want her to go to jail, I love her very much. She is sorry for what she did. We challenge her a lot. Please give it a chance."
daughter's letter who stole
"Drugs destroy us. In a moment the thoughts are clouded and life goes out like a blink. How ironic to write these lyrics with such sadness and realize that the only result of that is bad. Nothing will repair what has been done, but I don't want what is not mine. My apologies, I wish I could remedy everything. I know I can't, but your apologies are enough for me."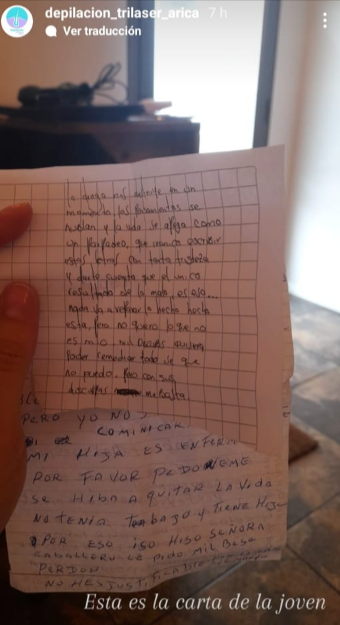 The owner of the place spoke
The owner of Depilación Trilaser Arica, in Chile, Marta Sepúlveda, said, according to the country's CNN, "we don't know if he's really the father, we don't have that certainty for now. In some comments they said that the girl was Colombian and that she had no family here. What I am sure of is that they freaked out when they realized the video went viral."
Source-elpopular.pe