After the legal dispute between Daniel Peredo's wife, Flaming Miracles, and Media Networks Latin America SAC, the family of the remembered journalist won the lawsuit and will receive a payment that exceeds one million soles.
The Superior Court of Justice of Lima (CSJ) sent a statement on its social networks, in which it revealed that Peredo's wife will receive 1 million 500 thousand 20 soles for labor benefits.
"(…) Orders Media Networks Latin America SAC to pay S / 1,536,020.76 in favor of the heirs of Daniel Peredo (Milagros Llamosas and her two minor daughters) for the payment of labor benefits," indicates the tweet from the CSJ of Lime.
Along the same lines, the national justice explained the payment concepts that Media Networks -or rather Movistar- must disburse to the family of sports journalist Daniel Peredo.
"The payment of vacations, bonuses, extraordinary bonus, CTS, utilities, the payment of compensation for damages is ordered in the form of loss of earnings, due to the omission of payment and contracting of the Life Insurance Law in the sum of UN MILLION FIVE HUNDRED THIRTY-SIX THOUSAND TWENTY WITH 76/100 SOLES (S / 1,536,020.76) ", indicates the second paragraph of the resolution.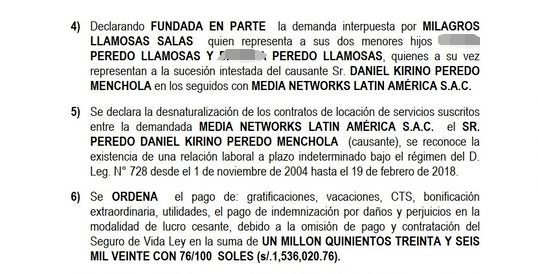 Let us remember that Daniel Peredo's wife, Milagros Llamosas, from the beginning defended the image of the beloved journalist, since Movistar used the image of the narrator in Media Networks.
Source-elpopular.pe