Cottagecore, cluttercore, vintage, biophilia, Nordic style… They are all trends in decor very fashionable lately. However, what makes each person opt for one style or another sometimes has to do, simply, with the generation.
For this reason, the expert decor Natalia Zubizarreta explains how the members of each generation group tend to distribute and decorate their homes.
"Baby Boomers": classic homes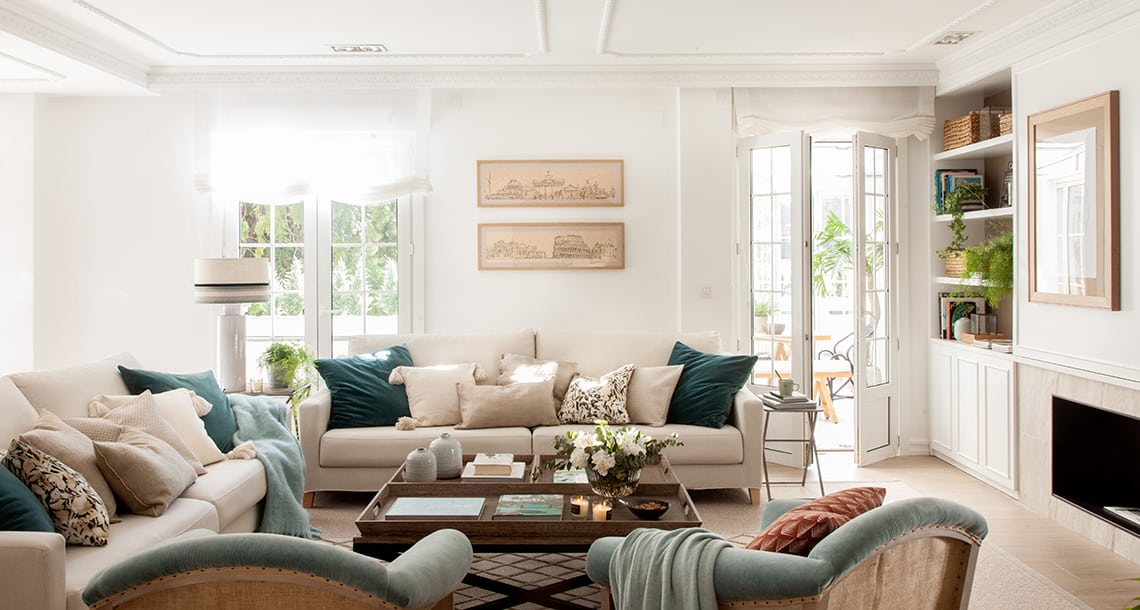 The "baby boomers", or "new normals", are those born between 1946 and 1964. Natalia explains that "they are demanding clients". And it is that "it is the generation that receives a large family at home; the generation that finally enjoys the work and effort of many years at home". This is why they tend to prefer a decor classic but with certain luxuries and ostentation: "they like their homes to show what they have achieved with more 'apparent' materials, which show what has been achieved, the effort".
Baby boomers cling to objects from the past and have a hard time getting rid of them: "they love to take advantage of heirloom pieces," Zubizarreta explains. In addition, "they associate the good with the classic, the 'of a lifetime'". Thus, "they value investing in what cannot be seen: facilities, insulation… They want to know that their home is healthy inside and out." Of course, "they are more traditional in the concept of distribution, with more conservative houses."
"This generation has had women 'punished' in the kitchen," says the expert, for this reason, "they associate giving love with giving good food, which is why cooking is highly valued." The result? "Well-thought-out, spacious, practical kitchens, with many facilities and space." In addition, "dining rooms in this generation are especially important, usually open, around which endless after-dinner tables are held." And, also, "the children had a high number of them, which is why they especially value large and compartmentalized houses". The "baby boomers", in short, "see their house as a symbol of power".
Generation X: between two worlds
"The perfect balance as customers. They know what to invest in wisely. They are familiar to everyone and value home." Generation X, born between 1965 and 1979, are also the bridge generation, those who are between the "boomers" and the "millennials": "perhaps that is why, when it comes to interior design, they advocate a mix between the classic and the the modern", says Natalia.
In addition, they tend to prioritize savings when decorating. And it is that "this generation survived the consumer fever of the 80s, hence the budget of the reform is closely watched!".
In general, they look foreasy to maintain houses with materials that look natural, but synthetic, that look natural without the disadvantages of being so: porosity, maintenance, delicacy, etc." Like the previous generation, they are very familiar and this is reflected in the home: "they greatly value children's and youth rooms, and custom-made furniture in these areas where even the smallest centimeter of storage and study area is used ".
In this sense, they also prefer "receivers with an area to store backpacks, take off shoes, store, a place that works for the whole family." And they are usually also "houses where there are books, many books".
Zubizarreta also explains that "since they saw mothers in the kitchen and are aware of its importance, now they are looking for the kitchen to open up in some way to the rest of the house so that no one is locked in." That is why they like glazed and illuminated places.
In conclusion, at Generation X, "they are impressed and attracted by the modern but they are also calmed by the traditional, which is why they are a generation that feels very comfortable in the mix".
"Millennials": the first digitized
"They are more of the posturing, more apparent but they value and see the figure of the interior designer as something more essential".
Millennials, the first generation of digital natives, born between 1980 and 1994, prefer a decor more modern and minimalist. For this reason, they value technology and digitization in their decor. Natalia explains that "they are urban, modern, technological…
And it is the enormous exposure that they have to digital and to cities, which also demands a return to connect with nature, with simplicity".
For this reason, "nature enters the house with plants and vertical gardens", putting the trend of "biophilia" on the rise. And, also, "hence this taste for the 'cottagecore' style", which is so fashionable lately. And it is that, "one of the typical features of this generation is the taste for retro".
Thus, they look for "rustic furniture and that touch of a town house". In addition, they like "the Nordic style that seeks to bring warmth and light to a house using natural elements such as light or wood." And the pastel colors, especially "the pink millennial".
As a digital generation "they demand teleworking areas and a network socket in each room for fear that the Wi-Fi fails, they are very aware that without the Internet they are dead." Also, they like TVs that are big but hidden in some way 'because they look bad in the photo'".
And it is that the "millennials" "seek a decor simple, without great artifice or ostentatious". But, at the same time, "they highly value the decor and they look for houses that can be photographed, presentable, the apparent image; but not that what is in the house is especially expensive". Because, in the end, "for many 'millennials' it is their first home, but that does not make them overlook a decor attention to detail."
"Centennials": the digital natives
"They represent a real challenge for a designer." The "centennials" are those born between 1995 and 2005, the second generation of digital natives and the first to be born with the Internet: "With so much to develop in a single space and the current chaos that This generation around them is messy and accumulates many objects", says Zubizarreta.
And perhaps this is the explanation for the rise of "cluttercore", a trend based on disorder. But the expert explains that "with them the practical prevails and not the aesthetic and they take the project of their areas as a power duel with the parents being demanding and sometimes inflexible."
For them, for example, "Including technological gadgets in your bedroom is essential: USB chargers, sockets for smartphones and speakers and of course space for 'gamers' to enjoy with a place to rest their keyboard and mouse".
Other essentials can be "screens with extendable arms on the wall or accessories to fix the mobile or tablet". Because "everything that helps the digital connection or surf the internet will be welcome". In fact, "one of the main characteristics is its ability to carry out a multitude of different activities within the same space."
"Let's say that their bedroom is their universe and it should allow them to rest, study, play, create… Hence, multifunctional furniture is very interesting for them with folding beds, storage, multipurpose pieces, etc.", explains Natalia, "and let's not forget an ergonomic and technological-looking chair for gamers".
On an aesthetic level, "they also love the lighting synchronized with the screen with color changes and if it floods the entire room, the better so that the gaming experience is even more immersive." In short, "the 'centennials' are digital natives, and that is reflected in the space they inhabit". Thus, as you can see, sometimes a generation has more in common than the shared era: it can also unite through how they decorate their homes based on the life stages that have accompanied them.
Source-www.diariolibre.com