Gino Assereto It has been the target of criticism after once again being in the eye of the storm due to an event that took place in "This is war" on May 23. While the "Shark" was participating in a riddle sequence on the reality show, he issued a racist qualifier towards his partner Yojhan Escamilo Cartagena, better known as 'Chevy', when comparing it to a primate. This happened after Assereto tried to get his colleague to guess the word "monkey" that appeared on the game's poster.
YOU CAN SEE: Gino Assereto praises Pedro Araujo, Jazmín Pinedo's boyfriend: "Handsome and an excellent person"
How did the networks react to the racist act of Gino Assereto?
Of course, Gino Assereto's racist comment did not go unnoticed by the viewers. After seeing the discriminatory act live, these people turned to their social networks to express their outrage towards the reality boy. They emphatically rejected his actions and asked that he be punished for the attack.
"Gino Assereto calls Chevy cute and everyone takes it as a joke. We didn't understand anything", "The 'nickname' of gino Assereto to this guy named 'Chevy' on 'EEG'. I didn't post it before hoping that some channel 4 satellite program would say something, but nothing, deaf ears", "It is unfortunate that 'EEG' shows acts of racism towards an Afro-Peruvian member", were some of the comments collected from Twitter.
Gino Assereto said racist comment in open signal. Photo: Twitter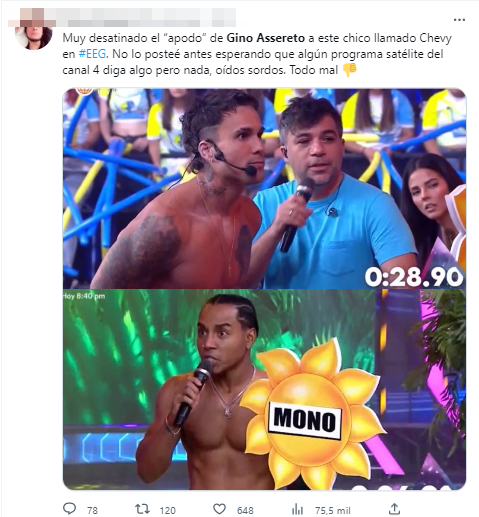 Gino Assereto said racist comment in open signal. Photo: Twitter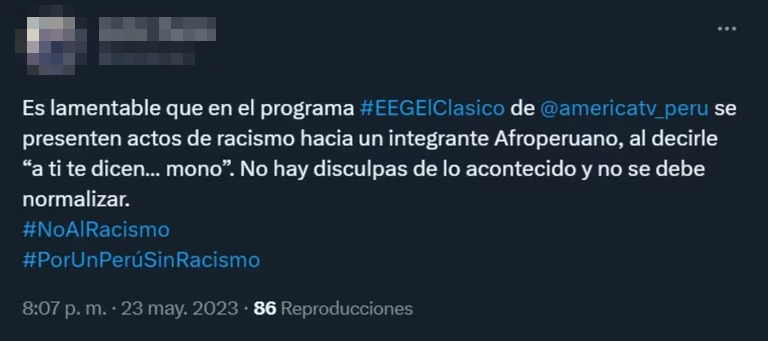 Gino Assereto is criticized on social networks. Photo: Twitter
What did the Mincul statement express?
Faced with the dissemination of this case on social networks and the request of users urging authorities to take corrective measures with the protagonists, the Ministry of Culture (Mincul) made a statement on May 24 through a statement, rejecting racist expressions. that were mentioned in the program "This is war".
YOU CAN SEE: Gino Assereto does not want to fall in love again: "I am not getting married, never"
"From the Ministry of Culture we will activate the self-regulation mechanism of the National Radio and Television Society (SNRT), in order to correct, sanction and prevent the reproduction of new content that disseminates and normalizes acts of discrimination based on physical featuresway of speaking or clothing, under the excuse of a simple joke," read their statement.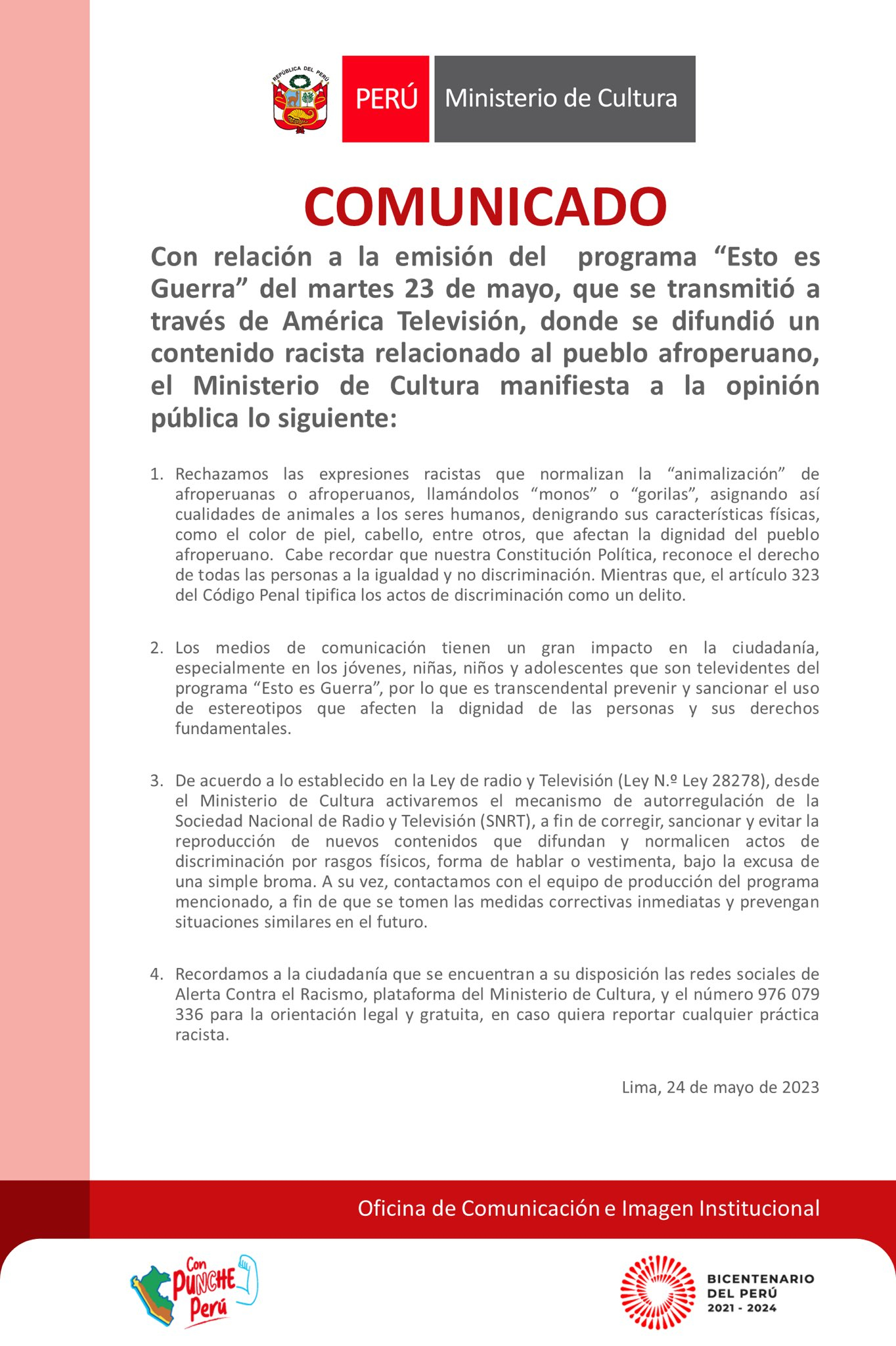 The Mincul will investigate a racist qualification issued by one of the participants. Photo: composition LR/Mincul/América TV
Source-larepublica.pe