The city of Tacna will live an unforgettable night with Grupo 5 and Yarita Lizeth. It is a free concert that will bring together hundreds of citizens to celebrate the anniversary of the district of Gregorio Albarracín Lanchipa. Shortly after the musical event, the promoter Chuño.com Producciones reported some of the measures prior to the activity.
When will the presentation of Grupo 5 and Yarita Lizeth take place?
According to the Municipality of Gregorio Albarracín Lanchipa, The concert will take place next Friday, May 26. In addition, the stage will be located in the Joel Gutiérrez Stadium and attendees will be able to enter from 4:00 p.m.
Event will be free in Tacna. Photo: composition LR/Group 5/Yarita Lizeth
YOU CAN SEE: Grupo 5 and Yarita Lizeth will offer GREAT FREE concert in Tacna
Will there be ticket sales?
For the Grupo 5 and Yarita Lizeth concert in Tacna there will be no ticket sales. This is because the income will be GRATUITOUS and by order of arrival. Attendees will go through a prior security check. The promoters of the event stressed that they will not sell tickets or box.
"Citizens are requested to anticipate their arrival and enjoy this great show. There is not, nor will there be, ticket sales, or box sales, since admission is completely free; There will be few boxes installed and they will be used for guests", reported Chuño.com Producciones.
However, citizens can participate in the draw for three boxes (eight people) by sharing and following the steps of the Chuño.com Producciones page on Facebook.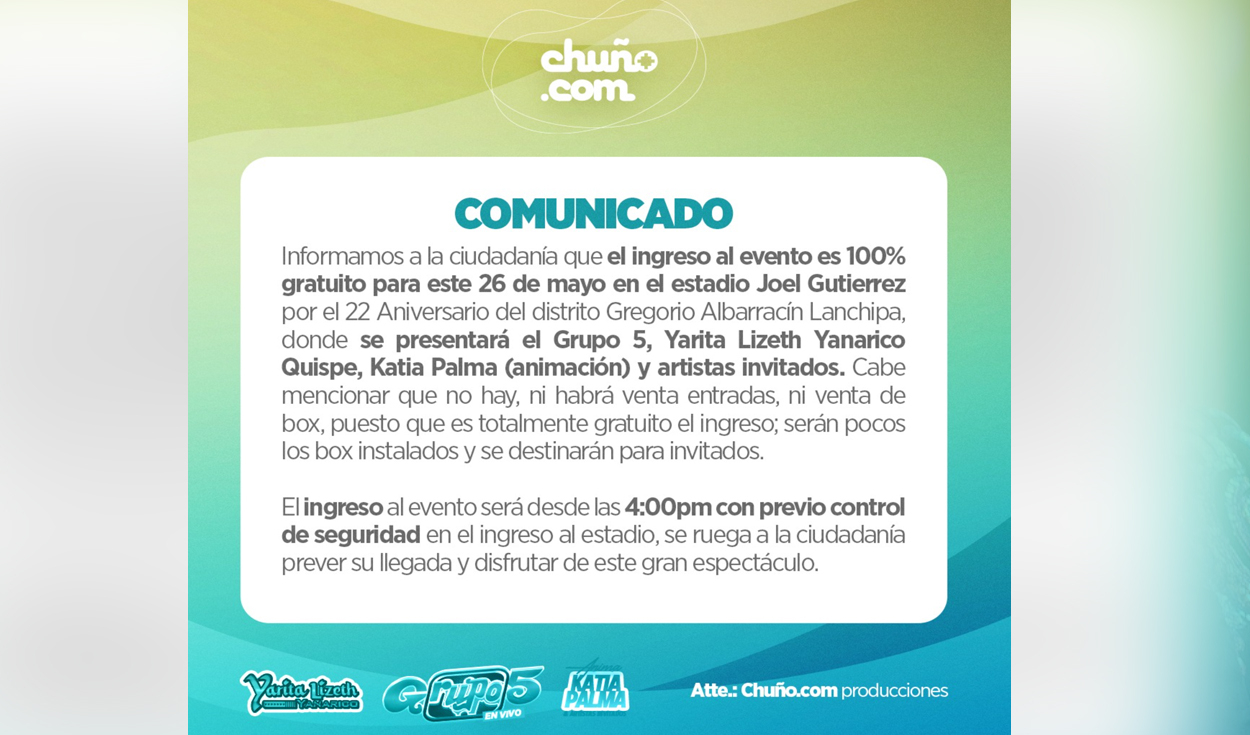 Publication of raffle tickets. Photo: Facebook/Chuño.com Productions
Will only citizens of Tacna be able to enter?
No, according to information from the Municipality of Gregorio Albarracín, The entrance to the concert is GENERAL, so there will be no impediments for anyone wishing to attend.
What artists will also be there?
So far, it is known that the animation of the concert will be in charge of Katia Palma, actress and television presenter. Other local artists will also be present.
Sales record in Lima and Arequipa
The 50 years of artistic life of the cumbia group was performed on top. One date was not enough, but three, to welcome the fans ready to enjoy the unmistakable style of the Yaipén. The San Marcos Stadium welcomed thousands of souls during three days, which included artists of the stature of Eddy Herrera, Eva Ayllón, Gian Marco, Daniel Darcourt, among others.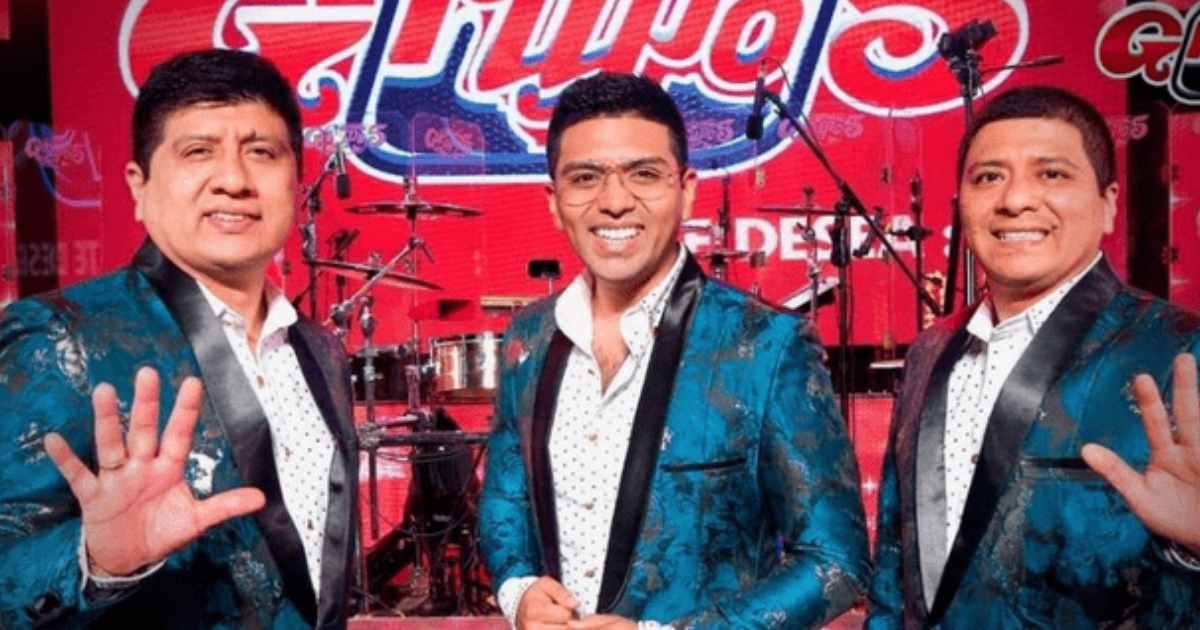 Enjoying a private concert by Grupo 5 costs almost S/100,000. Photo: Group 5
In Arequipa it happened in a similar way. Team 5 had to offer a third date because the tickets put up for sale sold out in a matter of minutes. Presentations will be on Friday June 16, Saturday June 17 and Sunday June 18. The Beer Garden will host this great event.
Source-larepublica.pe