In Peru, the Ministry of Health (Minsa) issued an epidemiological alert due to the increase in cases of Guillain Barré syndrome (GBS), on June 26. The cases to that date reached 108 nationwide. The most affected regions are Lima, La Libertad, Piura and Cajamarca.
The alarm at the national level has the objective that the population and public services adopt the necessary surveillance and prevention measures. What are the symptoms and how can this pathology be prevented?
GBS affects the joints and muscles of the body. Photo: NetMD
Guillain Barré syndrome: what is it?
According to the World Health Organization (WHO), Guillain Barré syndrome is a disease that affects the immune system and it acts on the peripheral nerves—which are the ones that branch from the brain to all other parts of the body. Therefore, its main symptoms consist of muscular weakness and loss of sensation in legs or arms, for a long time.
The first signs of this disease are usually tingling and weakness in the fingers, feet and legs, a condition that spreads to the rest of the body. Symptoms that represent complications are breathing difficulties, joint numbness, heart and blood pressure problems, bowel problems, and urinary retention. Added to this is the risk of blood clots.
Patients who present this pathology, more frequently, tend to be adults over 50 years of age and male, despite the fact that it can affect people of all ages.
What are the causes and how to prevent it?
Although the causes are generally unknown, the National Institute of Health (INS) of Peru indicated that most patients have a history of gastrointestinal or respiratory infections in the two weeks prior to the onset of GBS symptoms.
Within this framework, the Minsa urged Peruvian citizens to take preventive hygiene measures, such as hand washing with soap and water, before and after eating, as well as using the toilets. It is also recommended to ensure that food is thoroughly cooked before consuming it.
In addition, with the epidemiological alert, the Peruvian State has ordered the epidemiological investigation of cases, emphasizing the identification of previous exposures or infections that may have been triggers. Added to this is the requirement to notify any suspicious case through official channels of the corresponding entity.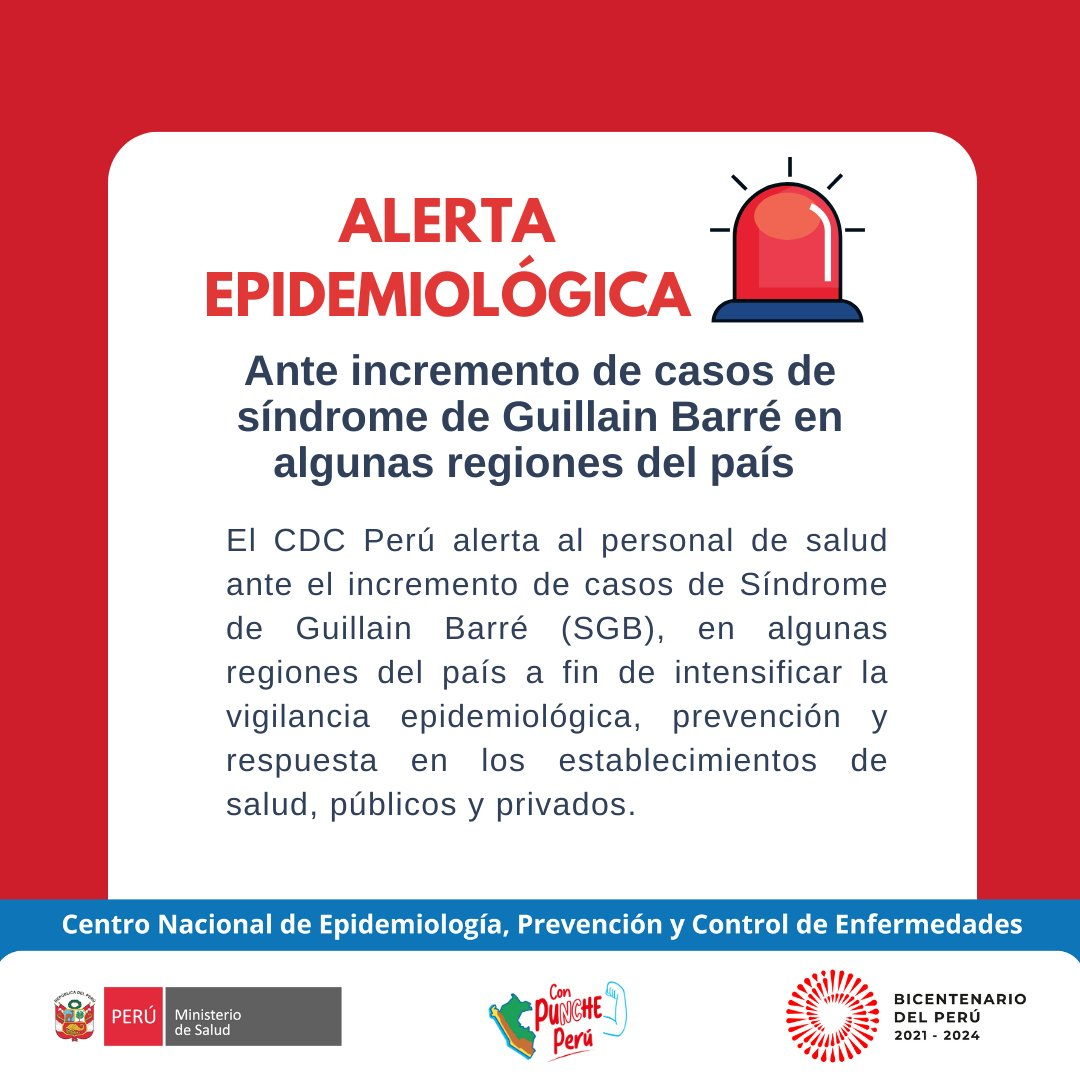 The National Center for Epidemiology, Prevention and Disease Control (CDC), of the Minsa, announced the alert on June 26. Photo: Minsa
How is it detected?
Guillain Barré syndrome is difficult to detect. The WHO indicates that the diagnosis can be based on symptoms and neurological examinations; In addition, it specifies that it is undetectable with blood tests.
On the other hand, according to the Mayo Clinic medical portal, to diagnose this disease, doctors can recommend the following alternatives:
Removal of a small amount of fluid from the spinal canal.
Application of electromyography, which consists of inserting electrodes with thin needles that measure the pulses of the muscles.
Nerve conduction studies, with electrodes placed on the skin over the nerves.
Regions most affected in Peru
According to the latest Minsa report, these are the figures for the regions with the most patients suffering from Guillain-Barré syndrome in the last year:
Lime: 26
Freedom: 20
Piura: 12
Cajamarca: 11
Junin: 8
Cuzco: 7
Callao: 5
Epidemiological Alert – AE-CDC-N°015-2023 by Camila Alomia on Scribd
Source-larepublica.pe