When sharing a photo or file, your smartphone iphone either iPad It shows you a menu with various options that seek to make your life easier and save time. One of these is the people suggestions, which is intended to allow you to send what you want more quickly to the contacts with whom you speak the most or with whom you have recently communicated. However, as with many other features on your smartphone, there is a way to turn off these automatic recommendations.
There are two simple ways to remove people suggestions from the share menu on your iPhone or iPad, which differ between turning off the general feature and just getting rid of the names of particular people. In the first case, it is just as easy to activate this option again whenever you want.
What is the iPhone and iPad share menu?
The share menu of your iPhone or iPad opens when you press the button of the same name, which allows you to directly send a photo or file in general to another person or device. It includes three sections: message suggestions, app suggestions to send the content to, and actions and shortcuts that can be performed (copy, assign to a contact, print, etc.).
iPhone people suggestions appear when you want to share a photo or file. Photo: Capture
How to turn off people suggestions on iPhone and iPad?
The first method to turn off people suggestions in general is to go to your iPhone or iPad settings. In this general menu, you should look for an option called "Siri" and "Search", which contains everything related to Apple's popular artificial intelligence. Within this section, there is a section called "Siri Suggestions", where you just have to deactivate the function that says "Suggestions when sharing".
The second method requires opening the share menu and setting specifically which person you want not to appear in the suggestions section. You must keep clicking on the icon of the contact you choose, and a button will appear that says "fewer suggestions". Tapping it will cause it to immediately disappear from the list.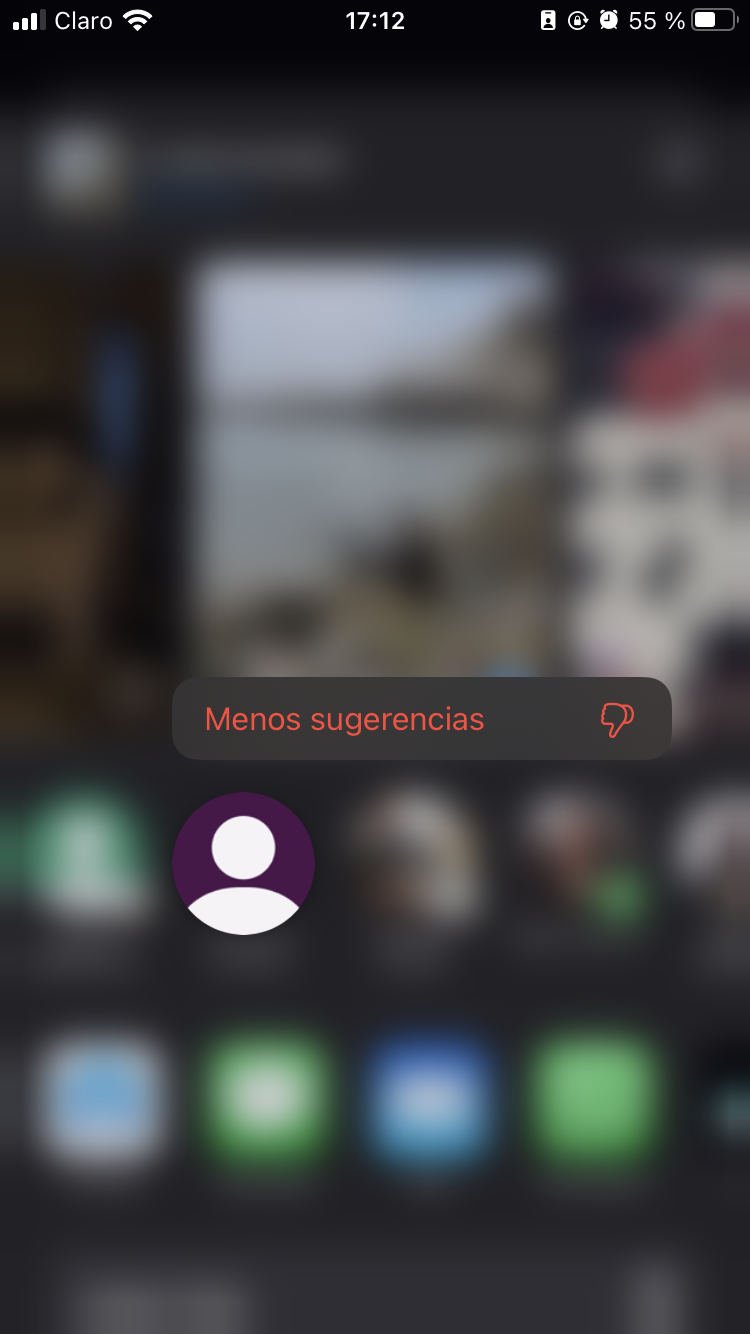 To remove specific suggestions, you just have to press the button that appears on the screen. Photo: Capture
How to edit the share menu of iPhone and iPad?
Similar to suggestions, it is possible to customize the apps that appear as file sharing shortcuts, as well as the actions and shortcuts. For this, you just have to look for the "More" button in the share menu, and then the "Edit" button. In this section, you can add (+) or remove (-) the apps that you want to appear in the Favorites section.
In the case of actions and shortcuts, the procedure is similar, except that you must look for the "Edit actions" button in the share menu.
Source-larepublica.pe