Juan Luis Guerra will appear today 25 of May at the San Marcos Stadium in front of dozens of fans who shed tears in November of last year at not being able to see their artist favorite after the closure of Arena 1 for not respecting the capacity allowed of people in the second date.
As is known, on November 22, 2022, a total of 14,000 people only being allowed the entry of 9,000 putting the safety of all attendees at risk, therefore, the Surco Municipality closed the venue canceling the concert and breaking the dreams of all the fans of the Dominican singer.
YOU CAN SEE: Everything you need to know before going to the Juan Luis Guerra concert: recommendations and setlist
However, a hope dazzled everyone this year, as the artist announced his arrival in our country on 25 of May. Also, for those who couldn't attend last year but bought their tickets, teleticket He gave them the option to redeem them in order to attend this year's concert. Otherwise, they promised the money back.
YOU CAN SEE: Reggaetón Lima Festival generated outrage due to technical failures and overselling of tickets
Juan Luis Guerra in Lima 2023: Fans have not received a refund for half a year
They make a call to indecopi. Although it is true, thousands of fans were able to redeem their tickets, many were disappointed by the bad experience last year, so they chose to request their money back. However, today may 25 the concert will be held again and they still have no response from teleticket.
With it, the users they went to the page of the event organizer "Fans & Music" to claim the return of your money, since they have been without any response for almost half a year. They also called on Indecopi to speed up the process by accusing the promoter of the event as a "swindler." They also denounced that they would have exchanged their tickets for them to attend this concert, despite the fact that they no longer wish to go.
"indecopia thousand complaints, a thousand complaints, and so far there is no solution for the returns", "indecopiwe have been waiting months for the return of the money, for when?", "I am still waiting for the return of my money, until when? Teleticket, Fans&Music, Indecopi, National Police of Peru. I'm going to continue until I get my money back, I'm not going to stop. They are thieves and scammers", "They must return the money. They are scammers who, without one's consent, automatically changed the tickets, ignoring the return request. For many, the plans have changed, they cannot force us to go," were some of the comments from Internet users who were outraged by the lack of response from any of the aforementioned organizations.
Source: Facebook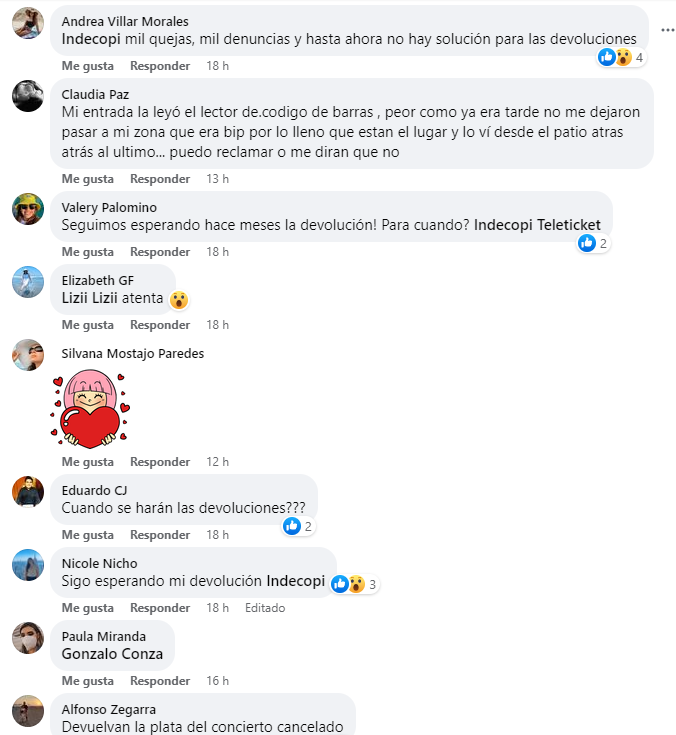 Source: Facebook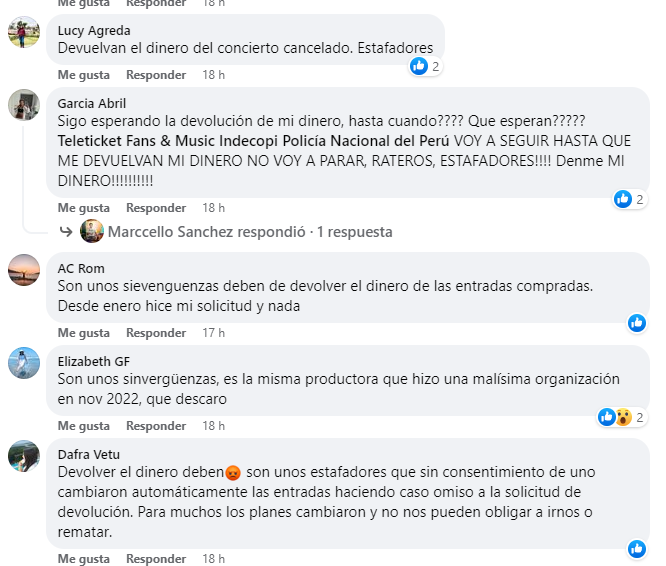 Source: Facebook
Source-elpopular.pe