Lasso will perform a series of 13 concerts in his native Venezuela as part of his world tour'Lasso vs. stay alone forever'. The places have already been confirmed and the tickets are already available. In this note we will tell you all the details about their presentations and what to do to be able to go.
YOU CAN SEE: Judge prohibits Pablo Escobar sticker due to complaint from a woman who felt "seriously threatened"
When and where will the Lasso concerts be in Venezuela?
'Lasso vs. Staying alone forever world tour 2023 'will have a wide space of 13 dates dedicated to Venezuela, where he will delight thousands of his compatriots with his songs for a month.
The official places and dates have already been confirmed. through the official platforms of the Caribbean artist, which are the following:
Friday June 2: Jirahara hotel, in Barquisimeto
Saturday June 3: Palace of Events, in Maracaibo
Thursday June 8: Club Italo, in Puerto Ordaz
Friday June 9: Hotel San Miguel, in Maturin
Saturday June 10: Syrian club, in Puerto La Cruz
Sunday June 11: Tibisay Hotel Beach Club, in Margarita.
YOU CAN SEE: UCV Elections Suspended: Electoral Commission decided to reschedule the elections
Lasso will have a full month on his calendar dedicated solely to Venezuela. Photo: Omar Coca/La República.
Thursday June 15: bullring, Merida
Friday June 16: hotel eurobuilding
Saturday June 17: Wynwood Park, in Valencia
Friday June 23: Las Virtudes shopping center parking lot, in Punto Fijo
Saturday June 24: Acoustic Shell, in Maracay
Sunday June 25: Sambil shopping center, in San Cristobal
Saturday July 1: Simón Bolívar University stadium, in Caracas
YOU CAN SEE: Venezuelan flavor! Guasacaca is considered one of the best sauces in the world.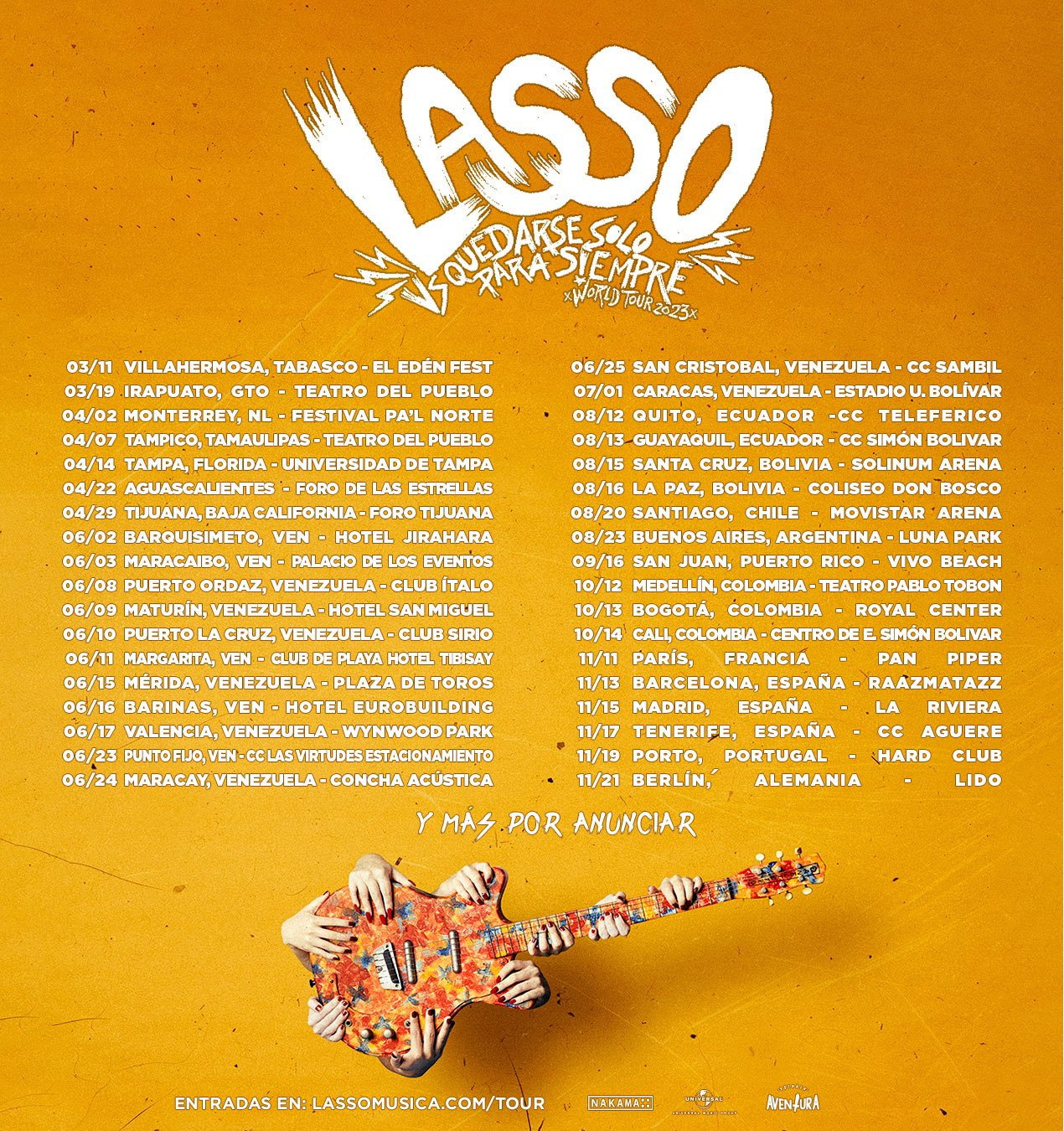 Lasso vs. Stay Alone Forever is a world tour that lasts from March to November. Photo: Twitter/Lasso.
How to buy tickets for Lasso in Venezuela 2023?
Tickets to see Lasso in Venezuela are already available. The Caribbean singer activated the sale of tickets through the Goliiive platform, segmented by date. To purchase tickets for the Lasso concerts in Venezuela, CLICK HERE.
Source-larepublica.pe