Magaly Medina used her social networks to denounce that two companies that sell health products use her image without authorization. In instagramshowed the proofs of the advertisements in which she appears, supposedly attesting that these products are good for Peruvians.
Tonight, Friday May 26, the host of 'Magaly TV La Firme', described that these people scam many people, and on top of that, using photos, videos and audios of her. "Unscrupulous people, use my image to deceive people and promote her place," she said on her networks that have millions of followers.
YOU CAN SEE: Magaly Medina will remain firm in her ATV program and clarifies: "I would be crazy to leave"
In this sense, the popular 'Magpie' She clarified to the users that they should not be deceived, since she does not give veracity of the anti-aging products that the company promotes. "I do not recommend any other company because I do not attest to what I do not know," added the ATV figure.
In addition, the controversial journalist indicated that another company does the same to sell and promote its premises. "Other unscrupulous people using my voice without my permission and trying to defraud the unsuspecting. I do not recommend these products, nor that place I have never been to," she wrote on her networks.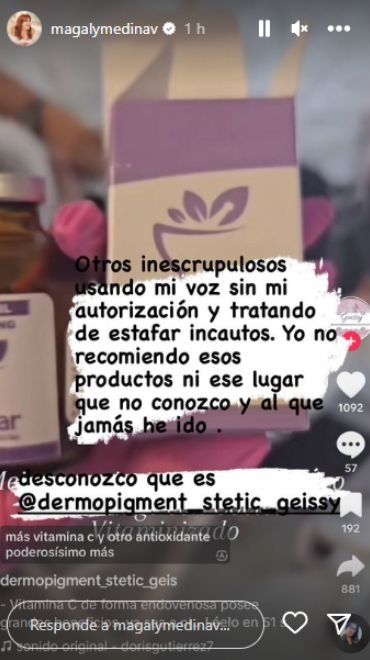 YOU CAN SEE: Magaly Medina proud of the achievements of her nephew Diego who studies at a prestigious university
Magaly Medina and the time she denounced that she suffered a cyber attack
Through a statement to the public opinion, Magaly Medina revealed that their YouTube accounts were compromised. In his official networks, he denounced that they should not be surprised by certain people who seek to harm his followers. They asked that they not continue to enter until the relevant problems are solved.
"We inform you that our YouTube accounts have been violated. We alert citizens not to be surprised by unscrupulous people. We are working to solve it and we will take the corresponding legal actions. We appreciate your support and understanding," read the statement released to the media.
Source-elpopular.pe