After three years of absence, the Puerto Rican salsero Mark Anthony Felix Sánchez once again delighted the Dominicans in the Olympic State with his voice with his tour "Viviendo Tour" where he only sang 12 songs from his extensive repertoire. The public was left wanting more.
At 8:55 p.m. the person in charge of opening the show was the Dominican merenguero Manny Cruz, who went on stage singing "You know how to fall in love", followed by "Dancing with you".
Manny Cruz thanked Mark Anthony and to SD Concerts for the opportunity and invited the audience to lend a helping hand to those affected by the passage of Hurricane Fiona and dedicated the song "I'm complete" to them.
To everyone's surprise, he invited his brother Daniel Santa Cruz to the stage, with whom he sang "Give me a night."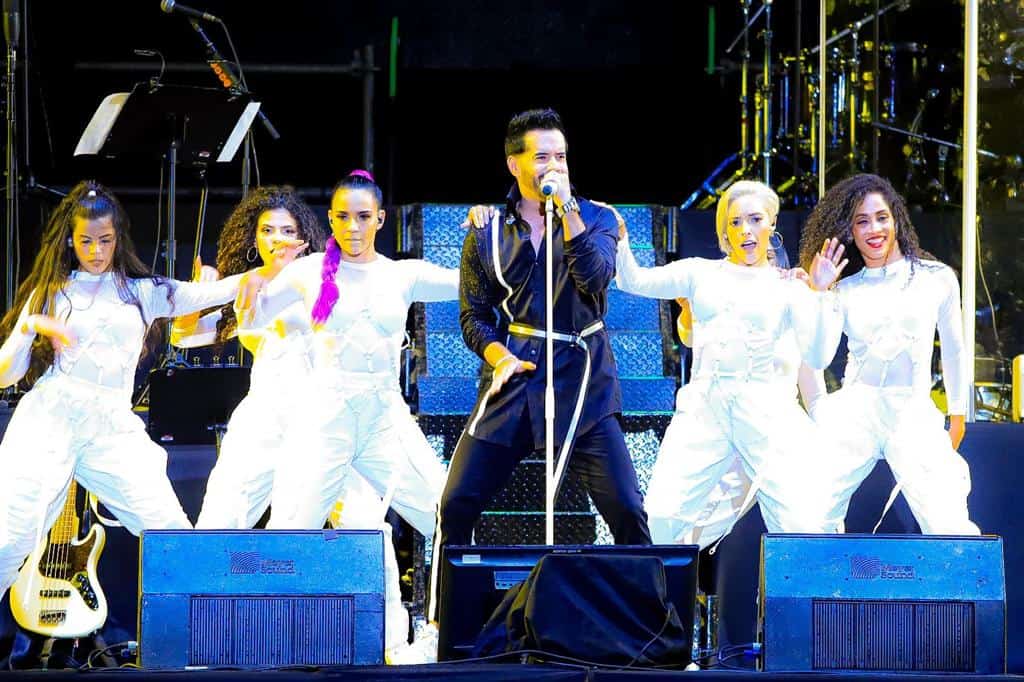 Then he made a medley of artists who have inspired him with whom he put those present in the Olympic Stadium on their feet, dancing and chanting. Among the iconic songs were: "El tiburon" by Proyecto Uno, "Fiesta y fiesta" by Dioni Fernández, "Merenguero hasta la tambora" by Johnny Ventura, "When I step on Dominican land" by Fernando Villalona, ​​among others.
Around 10 p.m., dressed completely in black and with his usual black glasses, Mark Anthony He went on stage causing the euphoria of those present who wait for his appearance for seconds.
"Pa'lla voy" was the song with which "El flaco" began his one hour and 20 minute show.
Those present took out their cell phones to capture the moment and the corridors became dance floors from start to finish.
"Valió la pena" from the album "Amar sin Mentas" (2004), "And there was someone", "Until yesterday" were chanted at the top of their lungs by those present, imbuing them with the same feeling with which the Puerto Rican interprets them.
"How are you doing?" the Puerto Rican asked the Dominicans, who answered him with shouts and applause. He went on to say, "Thank you so much for giving me the opportunity to share with you. I'm home". He followed up with "Flor pálida" from the album "2.0" released in 2014, which he described as "his favorite of his".
He also performed "Contra la Corriente", "Que price el cielo", "Bad", "I know you well" and "They seem like Friday", showing the public that despite the years his live vocal quality remains intact.
His girlfriend, the first finalist of Miss Universe 2021, Nadia Ferreira, his faithful companion since they made their relationship public, did not miss this concert either and he was seen dancing and clapping every time it was focused.
Participation of the orchestra
As usual, Marc is accompanied by an impeccable band and they also have a few minutes of the show to show their skills and steal the applause of the public.
The electric guitar, the timpani and the drums were the protagonists of the moment.
However, the drummer was not alone and Marc accompanied him during his presentations, showing that he not only sings but has also learned to play this instrument.
At 11:10 p.m. Marc said goodbye and those present cheered as he returned to the stage singing some of his songs such as "Vivir mi vida".
Minutes later he returned singing "Your love does me good" and then expressed that the concert was over, but the public's hubbub took him by surprise as he stood in the middle of the stage to contemplate the hubbub, admiration and respect of the attendees.
Finally, at 11:25 at night, he finished with "Vivir mi vida" leaving an audience wanting to continue enjoying his music more.
The concert was produced by SD Concerts and Pav Events. The Félix Sánchez Olympic Stadium was only conditioned for 15,000 people.
How much did each song cost?
Special Guest A3, A4, A5 (Row A – F), with tickets at RD$31,000 paid RD$2,583 per song

Special Guest A3, A4, A5 (Row G – S), with tickets at RD$26,000 paid RD$2,166 per song

Special Guest A2, A6, with tickets at RD$21,500 paid RD$1,791 per song

Special Guest A1, A7, with tickets at RD$17,500 paid RD$1,458 per song

VIP B1 – B7, with tickets at RD$11,500 paid RD$958 per song

VIP C1 – C8, with tickets RD$8,000 paid RD$666 per song

VIP C9 – C16, with tickets at RD$RD$5,800 paid RD$483 per song

Stands, with tickets at RD$3,000 paid RD$250 per song
Source-www.diariolibre.com