Few series have received as much attention from the fashion world as "Emily in Paris". A success not exempt from criticism that is due to the French costume designer Marilyn Fitoussiwho was not afraid to break the codes of fashion magazines and even those who have criticized Emily the most: the Parisians.
"For the Parisians it was a 'shock' because they were expecting this series to be a representation of Parisian fashion, so fussy, so fashionable… and no!", says Fitoussi in perfect Spanish, since he lived more than a decade in Mexico.
Fitoussi was selected for this position by American stylist Patricia Field, costume designer for the series "Sex and the City" or the movie "The Devil Wears Prada." Field has been the consultant for "Emily in Paris" but Fitoussi is responsible for each of the outfits in the series.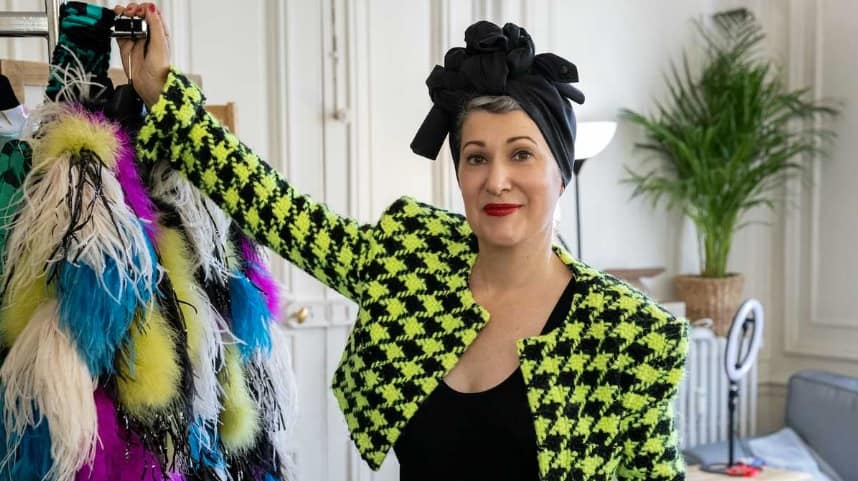 Only in the last season they have used some 14,000 borrowed, bought or rented garments and ended up wearing about 12,000, a sample of the gigantic wardrobe work that the series demands.
"I am in great demand and more and more. In the first season nobody wanted to lend me clothes, but after the success of the first season I began to receive more and more emails," says Fitoussi in an interview with EFE.
Fitoussi, who is now working in Lyon in the costumes for another film, assures that the tremendous way in which Emily's style, played by Lily Collins, has been analyzed has been comical.
"I don't do fashion, I'm a costume designer. My job is to build a character and I proposed one that is more than 'fashionista'. I wanted to offer people freedom from what fashion magazines tell them to do. Life It's short, we can dress as we want," he defends.
A phenomenon for brands
The clothing phenomenon in this series, where both the male and female characters continually change their clothes, has been such that there is an Instagram account with more than 150,000 followers dedicated to dissecting the clothes worn by its protagonists.
Also on social networks, "influencers" analyze their style, "youtubers" copy their "looks" and magazines investigate the series' wardrobe, also made up of numerous "vintage" garments and emerging creators.
"My mission is to shed light on emerging talent. Some tell me that they sold all the suits after appearing on the series. Everyone sees a difference," says Fitoussi.
Among them, the French creator Victor Weinsanto. When the character of Sylvie, played by Philippine Leroy-Beaulieu, she wore one of her lace and see-through dresses sold out in a matter of minutes and thanks to them she was able to finish settling in a better studio.
According to data analytics firm Launchmetrics, which uses algorithms to measure the impact of marketing strategies across print, online, and social media, the show's second season generated $96 million in media impact value in the month after its issuance.
Those data, released by Vogue's business head, accounted for a quarter of the impact generated by all fashion shows for an entire week in the spring-summer 2023 season, reflecting the scope of the phenomenon.
"Mexico was a visual shock"
Fitoussi declares herself a lover of colors and misunderstood in Paris, where when she was young many called her a "clown" for her style.
"Mexico was a 'shock' for me, culturally and visually. Its towns are an explosion of color that completely freed me from the little bit of Parisian I had inside me," the creator ironized about the country that became her second home. .
Mixing colors and presenting a character who understands more attitude than trends is one of the keys to this series, in his opinion, which seeks to remain interesting, daring and "cool" in the future.
"What is fashionable goes out of style. In ten years this series cannot be representative of 2022 if it wants to continue creating a school," defends the dressmaker.
Fitoussi, who remembers that there are many hours of work in each outfit, says that the actors have an essential role in the construction of the costumes and that their opinion usually helps her to finish building the outfit. In case of disagreement, yes, send the specialist.
"I have to design interesting silhouettes. Whether you love it or hate it, that it makes your eyes bleed, okay, but it has to be a proposal. That people fight on TikTok and waste hours of their lives commenting on their 'looks' makes me laugh ", he assures.
The debate around the series shows that it is not an ordinary production, but remember that it is a fiction that seeks to amuse and entertain.
For the next season, the fourth, which he is already working on, he warns that Emily will continue to evolve towards a more Parisian style. Of course, "Emily will never wear black, like the Parisians … she is an actress!".
Source-www.diariolibre.com