Nelly Rossinellia "The Biggest Chef: Celebrities" jury member who became popular with her healthy lunch boxes and recipes on TikTok, chatted with The Republic to tell us more about her experience on the Latina culinary reality show, which has become a favorite with many Peruvian families. In addition, he gave some little-known details about his life, his family, his work and what several fans of the show are asking for: a season without celebrities, but with cooking fans?
YOU CAN SEE: Javier Masías, judge of "The Great Famous Chef": "This side of sinister critic was something he missed"
—How do you feel about being part of "The Great Chef"?
—I feel happy, quite motivated, it is a new challenge for me. I have taken it with a lot of motivation, responsibility and commitment.
—How did you get called up for the show?
—They contacted me through one of my social networks and invited me to participate in a casting. They told me that they were looking for a different jury profile from the ones they already had, that they were a food critic, a chef, and they were looking for a mother who knows how to cook, who has empirical training in the kitchen, and, well, I spent the casting in person and now I'm in the program.
—How did you get inspired to upload videos on TikTok?
—I started like everyone else, in a pandemic, making comedy and funny videos with my oldest son to entertain us because we were all locked up at home, and I also started uploading recipes. There I started with 5,000 followers. But when the face-to-face classes return, I began to pack up my children's lunch boxes, which are the ones I usually send them, only I change some ingredients for healthier ones. That was the 'boom'.
—What did you do before you were popular on TikTok and "The Great Chef"?
—I am a business administrator with a specialization in Marketing and I have worked in (commercial) aviation for 20 years. At the same time, I have been an entertainer for children's shows, it is also part of what helped me develop in front of the cameras. I have always dedicated myself to the tourism business, I also set up a travel agency when I left an airline where I was for so many years.
—How do you handle the issue of haters on social media?
—Happily, it doesn't affect me because 90% are people who support me, who leave me positive comments. I keep those messages. It's also clear that not everyone will always like you, that's normal, you don't have to like everyone. I also understand the impact that, in a program called "The Great Chef", one of the qualifiers is not a chef (her), it also had an impact on people. It has been difficult for the public to understand why a mother who is not a chef is there judging, but they are already understanding, that there are three different views. Mine is that of a mom who knows how to cook and knows how to qualify other aspects.
Nelly Rossinelli on TikTok. Photo: capture/Instagram
YOU CAN SEE: Would Giacomo Bocchio leave "The Great Chef: Celebrities" if there is another season? This revealed the cook
—How was your first contact with cooking?
I love cooking, I'm passionate about it, it's what I like to do the most apart from traveling. I come from a provincial family. My dad and my mom are from the jungle, but my father has Andean roots. So, a lot of gastronomic diversity comes from both roots. We have always eaten very tasty at my house, we always cooked at home. We almost never used to eat out. My mother, my aunts and my grandmothers have cooked, and above all I really like traditional gastronomy. As you can see on my networks, I upload very few homemade dishes. I am from publishing the recipe for a pachamanca, a guinea pig, a stretcher or a tacacho with cecina. My love for cooking was born when I watched my family cook from a very young age.
—What is Nelly Rossinelli like as a mom?
—Well, I'm a Leo sign and I'm also a total 'lion mom'. I am very sweet as they know me, but I am also a lioness if you mess with my children, I die for them. They are my motor and motive, my reason for being, I am quite protective, but we also have a lot of confidence, even more so with the eldest, who is already a teenager. We are very close, he tells me everything, there is absolute trust. I'm not one of those who go on the demanding side like "hey, I want the best grades". I'm more of "do your best, work hard. If you do your best, I'll support you."
—Are any of your children interested in dedicating themselves to gastronomy perhaps in the future?
– The minor can be. He loves being involved in the kitchen, going to the market, he is passionate about all of that. The eldest is more focused on sports.
—How did the nickname 'Mama de los Pericotitos' come about?
—What happens is that the little one (his youngest son), since he is so small and gives me tenderness, I say many affectionate things, and in one of those my 'pericotito' came out. So, in the lunch boxes that I prepare online, I not only narrate my recipes, but I also tell my adventures as a housewife, my experiences as a mother, those of my children. There I tell many things. Since my son is a great dancer like me, he moves, jumps all the time, I called him the 'dancing parrot'. People on TikTok took it well and they all said to me: "I want to be the 'pericotito'". That's why Peláez (host of the program) called me 'Mama de los Pericotitos'.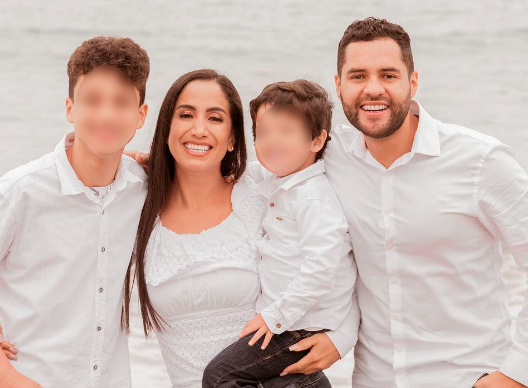 Nelly Rossinelli and her family. Photo: Instagram/Nelly Rossinelli
—Does Nelly Rossinelli go out to have fun?
—The truth is that I really like being with my family. So my fun will always be with my family. I am the typical 'boring friend'. I prefer to be a lot with my children and my husband. I like to travel and go out, I'm a family member, but it's not like I'm a homebody. I like the countryside, the beach, looking for new places. Going out at night, out there from time to time, because if my children are not there, I don't have fun.
YOU CAN SEE: José Peláez: who is the new host of Latina and the program "El gran chef: famous"?
—Do you think that "The Great Chef" reunited families in front of the TV?
—Totally, it is what I liked the most about the project. It's a healthy, white TV show, very familiar, and you have no idea how happy it can give me. I receive daily messages on social networks from families who tell me that they all get together to watch the program, they even send me photos. Also, they ask me to change the schedule of the show because some children want to watch the show, but they have to go to sleep early. My own youngest son, before he asked me to put pictures on him, now he asks me to put "The Great Chef: Celebrities." We have reunited everyone in front of the television and it is something that fills me with great pride because it is something that has not happened in a long time.
—What lessons do you take from your colleagues Javier Masísa and Giacomo Boccio?
"I admire both of you very much. Giacomo is a master in the kitchen, he knows a lot about his field and is very passionate. Something that I admire a lot in people is passion. In the case of Javier, he is a highly educated person, he is an encyclopedia; There is no topic you can ask him about and he doesn't know. Part of the secret to the success of "El gran chef" is the chemistry we have created between the four of us, including Peláez. We complement each other. Peláez is a clown, he is very funny; Giacomo is very technical and correct; Javier is very serious, demanding, but he has his spark, we can see him with his flat book face on the screen, but he is tender. I love all three of them very much.
—What's the worst dish you've ever had on the show?
—My God, it's definitely between Patricio Suárez's stuffed potato and rice with seafood, because yes, the seafood sent the three of us… (they didn't like the food). The one who had a bad time was Giacomo, who was super bad for three days.
—What celebrity ended up surprising you in the kitchen?
—The one who had less faith in him, but has surprised us, is Miguel Vergara. We said that he had come to play, we saw him very scattered, distracted. He has a very good palate, that boy, he has the seasoning of the north, totally.
—Will there be a second season of "The Great Chef"?
—The truth is that they haven't said anything to us yet, but in any case, I think they're also waiting for it at home. With faith.
—Would we see you in a new edition of the program?
"I'd love to, of course."
YOU CAN SEE: "The Great Chef: Celebrities" by [Latina EN VIVO ] TODAY: what time and how to watch the TODAY program LIVE
—Maybe do a version without celebrities, but with people who love cooking?
—Of course, it would be nice, with many housewives, whom I have come to represent on the show. So many moms who cook deliciously, deliciously, who perhaps have a restaurant and are not chefs. How would it please me if there is a program where all of them, including grannies, have the opportunity to show their seasoning.
—What prize will the winner of "The Great Chef: Celebrities" get?
—An award as such is not yet confirmed by the production. What is there is the title as 'the great chef', which is enough. In addition to all the learning over the weeks, they have had master classes, they have worked alongside wonderful chefs.
—What would you say to the audience of "The Great Chef: Celebrities"?
—To them, thank you very much for your support of the program. Really, believe me that each and every one of us is doing it with a lot of love, that we are not only the ones on the screen, but behind it there is a wonderful team that works hard so that they have the final result that they see on the screens and that we hope will keep bringing families together. That for us is our greatest payment.
Source-larepublica.pe