She was one of the most influential and recognized artists of the 20th century and, years after her death, the Mexican Frida Kahlo It went on to become an icon that transcended its time. For this reason the Paris Fashion Museum now extols the creator, who pioneered the use of clothing to define her identity and assert herself.
"Frida Kahlomás más de los clichés", open to the public from September 15 to December 31, exhibits more than 200 objects from the artist's personal collection, discovered in La Casa Azul in 2004. And, as the nerve center of History of Fashion, the so-called Palais Galliera explores for the first time its relationship with clothing.
"The importance of the garment to build ourselves, to express ourselves, is absolutely relevant and pertinent, and these are messages that we want to convey here, such as the impact of this extraordinary woman, who has become a fashion icon", she highlights in the presentation of the exhibition the director of the Galliera, Miren Arzalluz.
Curated by the Mexican Circe Henestrosa, director of the fashion school Lasalle College of Arts in Singapore, the exhibition defends through garments, letters, accessories, medicines and even medical prostheses that Kahlo was not only a victim of illness and tragedy , as the first major studies on it drew in the 1980s.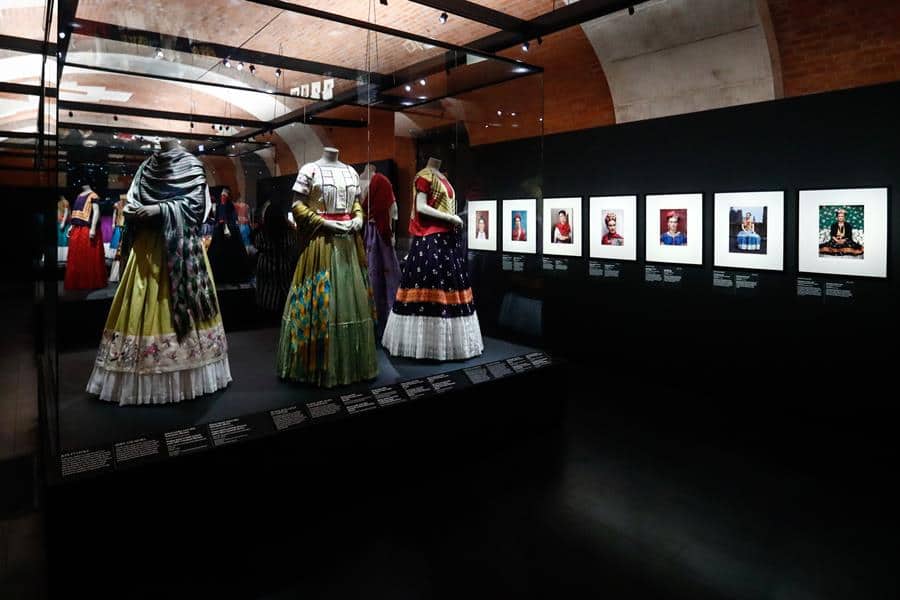 "Yes, she suffered, a lot. We are not going to deny it. But she lived an intense and full life and did not let her disabilities define her. She defined herself by putting her body at the service of art and expressing suffering creatively," she says. Henestrosa.
For the curator, Kahlo's appearance was her way of expressing her political and identity concerns, an example that can be a driving force of creation and inspiration for the new generations that today approach her work.
In fact, Magdalena Carmen Frida Kahlo and Calderón, born in 1907 in Coyoacán, the daughter of a mestiza of Spanish and indigenous origin from the Oaxaca region and the daughter of a German immigrant, came to painting through suffering.
At the age of six, polio left one leg shorter than the other and at 18 a terrible traffic accident left her bedridden, forcing her to undergo countless surgeries throughout her life to try to alleviate pain and spinal problems. .
He then began to paint, from his hospital bed, saying goodbye forever to his aspiration to be a doctor.
Fashion as a self-construction object
Although for years it was said that she wore typical clothes because her partner, the painter Diego Rivera, liked her, the truth is that Kahlo began wearing long dresses at the age of 20 to hide her health problems.
Later, he joined the calls of the Mexican authorities after the Revolution that shook the country for a decade, which ended in 1920, to adapt that style of the Tehuana matriarchs as a way of claiming their "Mexicanity".
"Frida Kahlo it endures because it was able to break many taboos about the experience of the female body, what it means to live with a disabled body and use creativity to feel better", defends Henestrosa.
The curator believes that Kahlo is an example of strength, resistance and freedom for the public that today discovers the artist and sees how she celebrated her roots, her appearance, a sexual freedom that led her to have both men and women lovers.
The exhibition is an adaptation of the Museum's collections Frida Kahlo that have already passed through big cities like San Francisco or London, but it is the first to pay so much attention to fashion as an object of personal construction and to its time in Europe and its contact with the surrealists in France.
As its own touch, Paris adds to the show creations by great contemporary designers such as Alexander McQueen; Jean Paul Gaultier; chanell; Maria Grazia Chiuri, at Dior, or Riccardo Tisci, at Givenchy, who drank, directly or indirectly, from the inexhaustible source of style and inspiration that was Frida Kahlo.
Source-www.diariolibre.com