They came in style. The influencer Sheyla Rojas returned to Peru to disturb the streets of Lima, but with her came her boyfriend, the popular "Sir Winston", a Mexican businessman who is dedicated to the field of construction and design.
Luis Miguel Galarza Muro, is the real name by Sir Winston. About him, Sheyla Rojas has also denied that she is a "Buchona", nickname given to the girlfriends of drug traffickers in Mexico. "I know that several comments are bad vibes, but nothing to do, I know very well what I am," revealed the model in an interview.
YOU CAN READ: Sheyla Rojas: these are the five photos that sweep her Instagram
Sir winston who is dedicated to the construction industry, currently lives in Guadalajara, where he shares his luxurious home with Sheyla Rojas. After the former reality girl boasted in networks how her life with the millionaire is, it was speculated that Galarza would dedicate herself to another type of business. Given this, Rojas came out to deny during a link with the program of Magaly medina.
Sheyla Rojas and Sir Winston in Lima
The Mexican businessman did not hesitate to take his suitcases and board a plane heading to Peruvian soil in search of his great love, who had returned days before to reunite with his family, whom he had not seen for months.
The program of Love and fire evidenced the romantic approaches that the former driver took with her boyfriend the businessman, both were caught away from the rest and in the dark with strong displays of love and affection.
The cameras of the program Willax tv put in evidence the great love that the former reality girl and her lover distilled while dancing and kissing in front of friends.
Sheyla Rojas reveals that Sir Winston already met his parents
In an interview for América Hoy, the popular Shey Shey She revealed that her boyfriend came to Peru to meet her family, and said that her parents will visit her in Mexico for Christmas. "My parents came, they live in Chiclayo, and they got along very well," he said.
READ ALSO: Antonio Pavón: travels to Mexico to meet Sir Winston, Sheyla Rojas' partner
In this way the model denied that Sir winston asked for your hand. "Not yet (they asked for my hand), Luismi also came for that. They are going to spend Christmas there, they are going to know Mexico," he said.
Does Sir Winston get along with Antonio Pavón?
A few weeks ago Antonio Pavón traveled to Mexico with his youngest son and his partner, but what surprised everyone is that they stayed in the luxurious house of the boyfriend of Sheyla Rojas, Sir Winston.
Antonio assured that the host is a very kind, respectful and correct person, although he revealed that at the beginning he was very curious to know the type of person he was.
How did Sheyla meet her boyfriend?
Sheyla Rojas She told Magaly Medina's program that during one of her trips to Mexico she had a dinner with her friends and one of them introduced her to her boyfriend Sir Winston.
"I had already packed my bags, I had everything ready and we are going to dinner and he introduces me to my boyfriend and it was actually love at first sight and he told me stay a month to live in my house and I said no. I said well, I'll stay, but somewhere else, "said the influencer.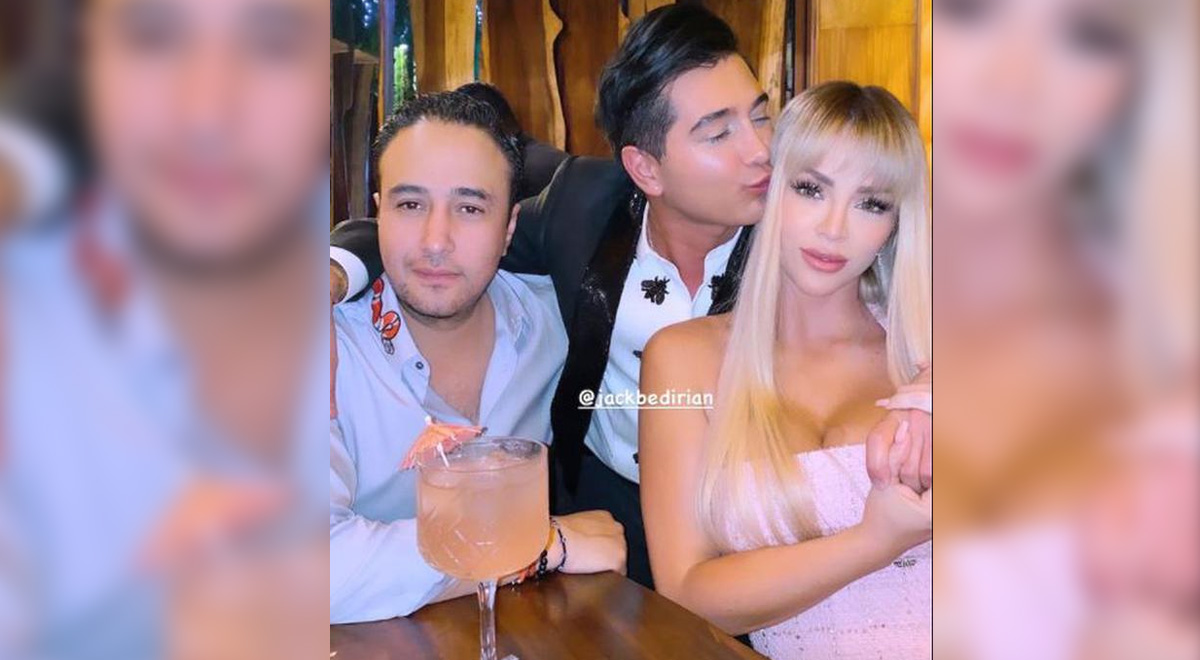 Sheyla Rojas reveals that she has been in a relationship with Sir Winston for a short time
The popular 'Shey Shey' said that she tried to keep her romance private, since they still have been with her boyfriend for a short time. "I try to take care of that part of my life. We are little time of relationship. We have 6 months ", he pointed.
However, he is aware that the entertainment press is always on the lookout for what happens in his life, so it was impossible to hide it further.
"As much as I want to make it private, it cannot be done, it is impossible for the people of Peru here and I am also a little gossip," he said.
Source-elpopular.pe