American actress and star of Avatar, Zoe Saldaña, has just become the first artist to manage to star in four films that managed to raise 2 billion dollars at the box office. In this context, below we will tell you how she managed to build her artistic career and what productions she participated in.
YOU CAN SEE: What has happened to Adela Noriega's life and what does she look like at 52?
The emotional story of how Zoe Saldaña began her artistic career
Zoe Saldana He was born in New Jersey in 1978, but when he turned nine he had to move to the Dominican Republic with his Puerto Rican mother and Dominican father. In that country she began to study modern dance, ballet and jazz.
According to what the artist recounted, although her family did not have a large economic income, they were always educated and dedicated themselves to attending theaters, concerts, reading books in Spanish and English; In addition, she always had discussions with her close environment to expand her knowledge.
Unfortunately, when she was still little, she went through one of the most difficult moments for her family, because her father passed away and to this day, although she already knows that everything is part of life, she dreams that he was in each of her successes.
At 17 years old zoe He returns to the United States again to join a theater group called Faces and perform at the New York Youth Theater. With the latter, she managed to be summoned to different projects and that is how, after discipline and perseverance, little by little she was making her way in acting.
YOU CAN SEE: This is the house of Emma Watson valued at 3.3 million dollars
These are the movies with which Zoe Saldaña broke records
Avatar 2009: 2.87 billion dollars
Avengers: Endgame 2019: 2.8 billion dollars
Avengers: Infinity War 2018: 2.05 billion dollars
Avatar: The Way of Water 2022: 2 billion dollars
Avatar: The Way of Water. Photo: Diffusion
YOU CAN SEE: Stephanie Cayo: Who is your mother Ana Sanguinetti and why is she away from TV?
This is how Zoe Saldaña reacted after learning about her record
Zoe Saldana He used his social networks to make known how excited and grateful he was for the recognition he received. In addition, she stresses that she never intended to make history with the productions she made, but she was lucky that the directors trusted her work.
"Wow! What can I say about today? It sure has been a roller coaster of emotions. Gratitude for the recognition and the absolute excitement that I wake up every morning and go do what I love. I never in a million years had the intention to make history by being in these films. I have always been lucky to have been chosen and asked to join these incredible and innovative projects, "he wrote at the beginning of his post.
In the final part of his post, he also thanked all his fans for making this great feat possible: "Thank you to all our fans for making these movies what they are today: making history!"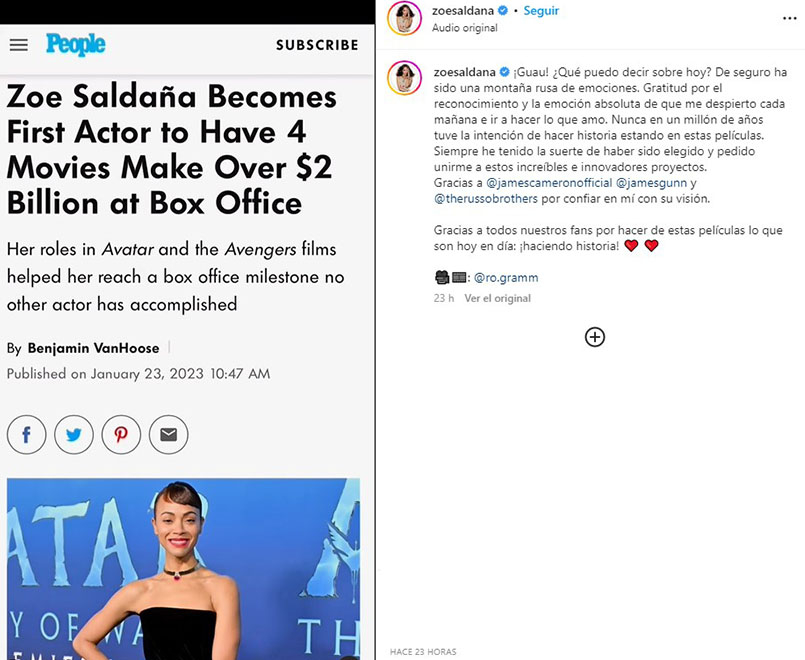 Zoe Saldaña about her record. Photo: Instagram
Source-elpopular.pe