Every time the Nigerian artist Akporo Akporode Collins38 years old, decides to start a new project. He has a big challenge ahead of him: to turn a lot of discarded cutlery pieces, especially spoons and forks, into a work of art.
In his studio in Ajah, a neighborhood that is home to a large part of the artistic and creative community of Lagos, the most populous city in Nigeria and its commercial capital, Collins works non-stop to form human figures, animals or abstract shapes with cutlery. that you have collected
In a city like Lagos, with 15 million inhabitants and 15,000 tons of solid waste generated every day, Collins uses her art to promote environmental sustainability.
"I get most of my materials from waste and it is interesting and gratifying to use things that people have condemned to the garbage to create different things with them. In addition, I am also helping the environment," says this artist to EFE from his study, surrounded by scrap on all sides.
Collins began working with old cutlery ten years ago, when he was still studying at a polytechnic university in the Nigerian state of Edo, in the center-west of the country.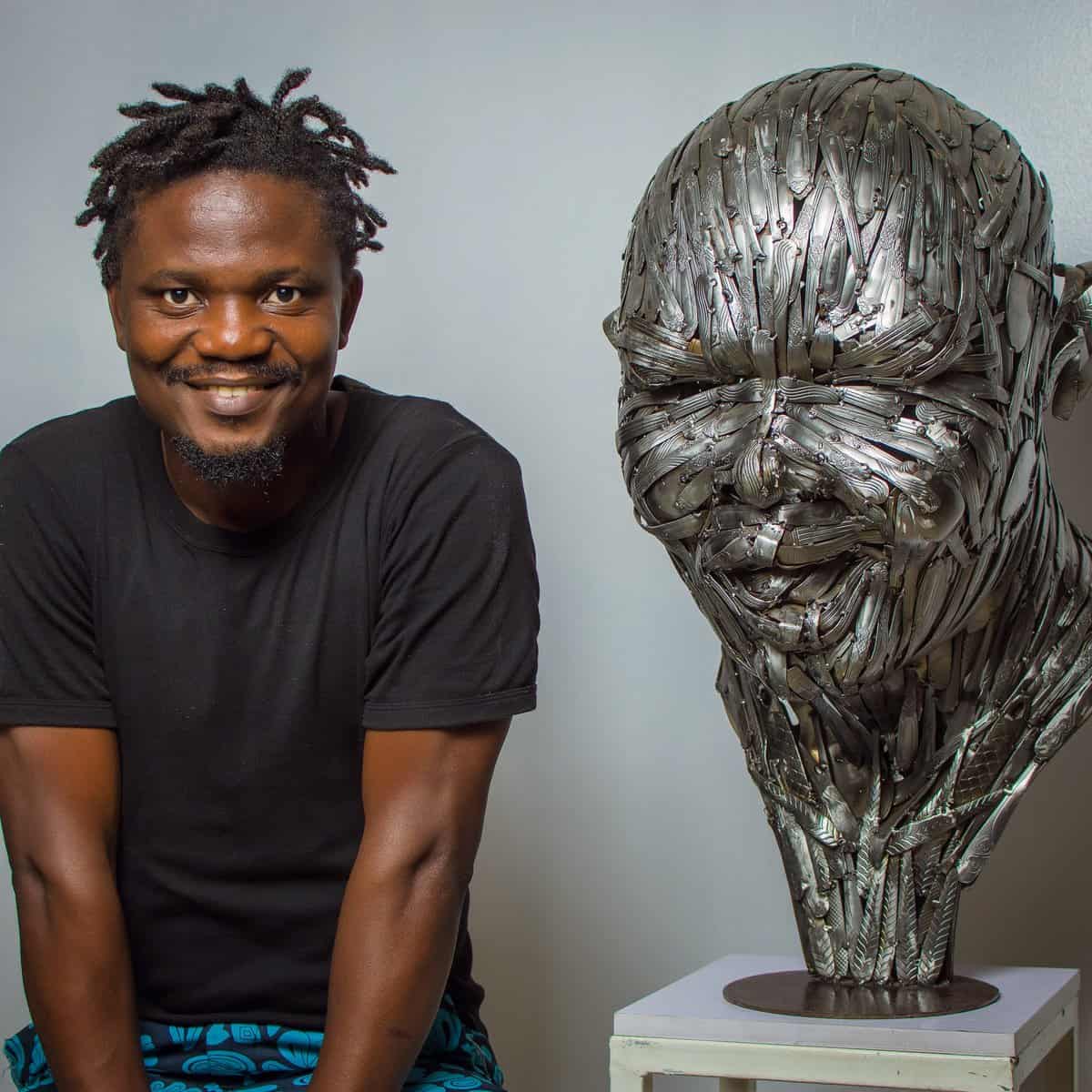 "It all started in 2012, during my last year at university. We had a course on metal construction and they asked us as a requirement to investigate and explore how to make sculptures with recycled materials," he says.
"That's how I made my first job with twelve dozen spoons, all of them extracted from the garbage… And then I embarked on this never-ending journey," he adds.
AN INTERNATIONAL FAME
Collins has evolved a lot over the years.
At first, he points out, he only created figures of birds, but over time he began to work on other types of themes.
Two works still under construction – a huge elephant, more than three meters tall, and a huge rhinoceros of a similar height – can be seen in his Ajah studio.
Collins points to them and says that it may still take more than two months to complete those sculptures.
The artist has been so successful that his works have been exhibited in many parts of the world, such as Saudi Arabia, the United States or the United Arab Emirates.
In fact, according to him, more than half of his clients are foreigners whom he has never met in person, but instead show interest in his works through social networks.
None of his sculptures cost less than $5,000.
"My works are in great demand – he reflects -. I think that people appreciate them above all because they are unique".
"You can try to copy me, but you can never copy me well unless you're as crazy as I am!" he jokes.
This Nigerian artist likes all the nicknames his work has given him: "Mr. Spoon," "The Sculptor Spoon"… but he insists he does much more than sculpt works.
"Yes, people call me that because of how they see my work. But I do much more than work with spoons. I draw, paint and do everything… like Pablo Picasso!", he concludes with a big smile on his face. EFE
Source-www.diariolibre.com