It's been a good time Gerard Piqué publicly made official his romance with Clara Chia Marti after several months of having ended his relationship with Shakira. The news caused such a media stir that the duo became the talk of the Spanish tabloids.
In fact, their first public appearance, as a couple, was when they both attended a wedding of a friend of Gerard Piqué. On that occasion, it was possible to find out the identity of the 23-year-old who had been talking so much about on digital platforms due to her close relationship with the former FC Barcelona player.
YOU CAN SEE: Jordi Martin accuses Gerard Piqué of wanting to run over him: I have lived through a very unpleasant episode
Those snapshots were rescued by the journalist Jordi Martín. They showed the couple walking hand in hand. However, what most attracted the attention of the material was the look that the young woman wore to the event.
Clara Chía Martí's friend reveals how he reacted when he saw his first photos with Piqué
Various entertainment media rushed to judge Clara Chía's outfit, which they indicated was not appropriate for a gala of this type. There were even those who criticized the way she wore her hair and her physical appearance.
This is how Clara Chía Martí looked at her first public event alongside Gerard Piqué.
In a recent interview that the Spanish paparazzi had with "Shirley Radio", he recounted that he was aware of how Clara Chía Martí felt when she saw those graphics for the first time. "This summer, when I took those photos that were at a wedding, Clara Chía was wearing a striped dress and her belly was slightly marked, her hair was like that, a little frizzy, and I remember that this was a shower of criticism of world level", stated the press man.
YOU CAN SEE: Shakira reveals that she "let off steam" by recording with Bizarrap: "I entered the studio one way and left another"
According to Martín, a colleague from Kosmos —Gerard's producer in which Clara Chía worked— told him the reaction that the young Catalan had when she arrived at her workplace after the dissemination of that material.
"A colleague from Kosmos, Piqué's company where Clara works, told me: 'Jordi, how strong, Clara Chía has arrived dead, dejected and crying, saying that those photos have ruined her life, that the whole world is criticizing her, that they make fun of her,'" added the communicator.
Do Clara Chía Martí and Gerard Piqué have plans to get married?
The Spanish program "¡Fiesta!" announced that Clara Chía Martí and Gerard Piqué would have plans to get married. As recognized by the panelist of the entertainment space, Mónica Vergara, the duo had already talked about how they wanted the ceremony to take place.
YOU CAN SEE: Clara Chía would have given Piqué an ultimatum in his attempt to get back together with Shakira, according to Jordi Martin
"At one point (…), they talk about a wedding. They talk, above all, about how Clara would like me to be her marriage partner. She (…) given Piqué's professional career, who understands that there are many followers (…) wants something very intimate, very private, and he does not want this to go beyond news, "said the host.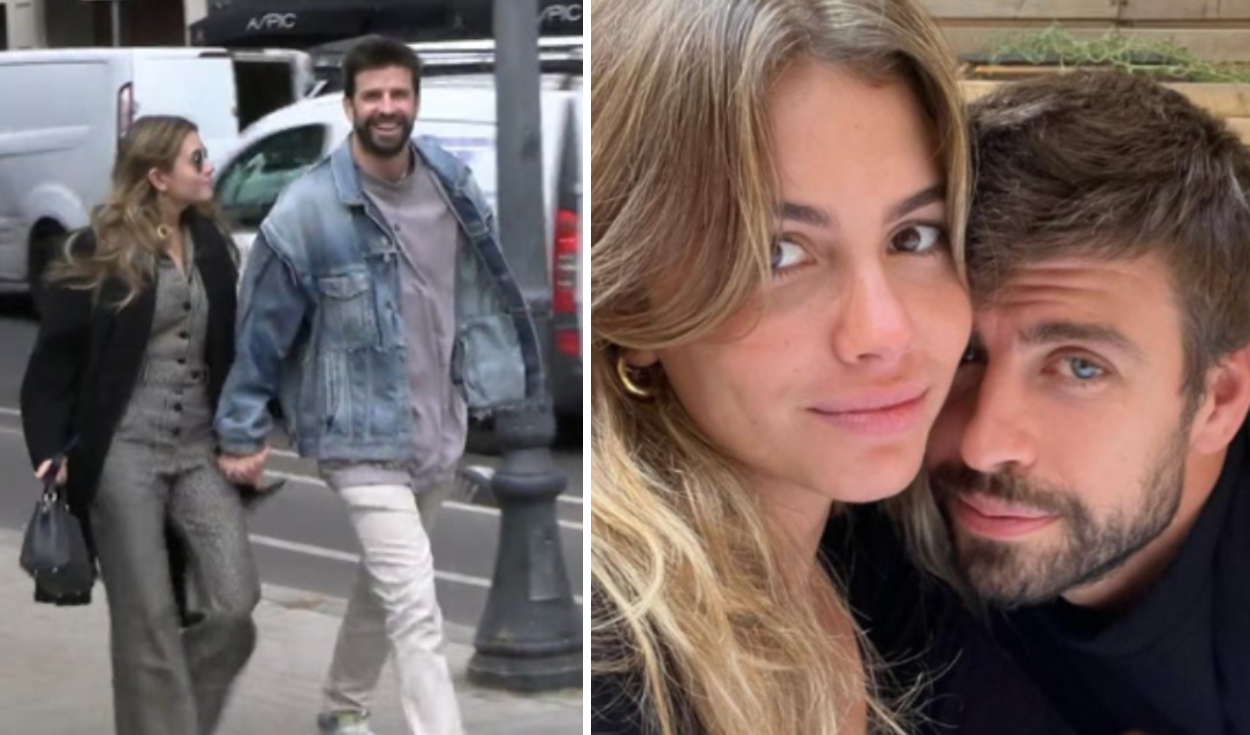 Gerard Piqué and Clara Chía shine hand in hand through the streets of Barcelona. Photo: composition LR/Mundo Deportivo/Instagram/Clara Chía
Source-larepublica.pe