An unmistakable voice, unquestionable strength and an overwhelming presence on stage: Tina Turner has died at the age of 83, leaving behind a musical legacy that captivated the public for more than half a century and made it the indisputable rock queen.
Tina Turner had retired from the world of music in 2009, at the age of 70.with a prolific career translated into more than 200 million records sold, 22 albums -12 studio, 3 live and 7 compilations- and 8 Grammy Awards.
The daughter of a foreman and a red Indian, the idyll with the music of Annie Mae Bullock -Turner's real name- began early, at the age of six, with her first appearances in the church choir in the small town of Brownsville. (Tennessee, USA).
However, the Bullocks' environment broke up just four years later, with the abandonment first of her mother and then of her father, although she and her sister would find what they considered their true parents: the Hendersons, a white family in the one who started working doing housework.
Music had a healing effect from the beginning for the artist, who at a very young age, at 17, fell in love with the rock and blues singer Ike Turnerwhom he would marry in 1962, five years after they met.
Soon, Ike Turner's group lost their vocalist, so Tina got her chance. And soon after, Ike Turner's group included the name of Tina (Ike & Tina Turner Revue).
Their professional affair lasted as long as their relationship lasted. They were years of tours in Europe and even Africa, hits like "A fool in love", records like "River Deep, Mountain high" (1966), "Proud Mary" (1970), "Blues Roots" (1972), "Nutbush City Limits"(1973) or "The Gospel According to Ike and Tina"(1974).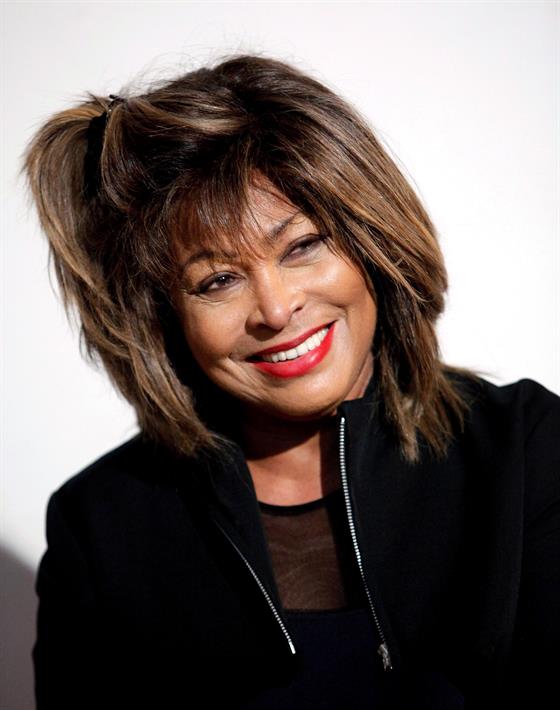 Likewise, stars like David Bowie, Sly Stone, Cher, Elvis Presley and Elton John they attended the permanent show that the group had in Las Vegas and shared the stage with them.
The marriage lasted until 1976. Years later the singer would accuse her of abuse and mistreatment Ike Turner in her autobiography "I, Tina: My Life Story" (1986).
He said that for sixteen years with him he suffered continuous abuse and aggression. A stormy relationship that became even more violent when the singer was under the influence of cocaine, to which he was addicted.
He even came to contemplate the idea of ​​suicide but found inner peace in Buddhism and decided to divorce.
After the divorce, the artist locked herself in her studio and two years later released her album "Rough" (1978)..
For a few years, the singer chose to keep a low profile and perform in small venues for small groups of audiences.
Until in 1983 he lavished himself with a song recorded in Great Britain entitled "Let's Stay Together"a whole musical 'boom' that captivated the British and Americans and that spurred her career to make her an international star.
With her energetic voice, her dancing legs and her overwhelming stage presence, Tina was linking records, starting the hit "Private Dance" (1984), which was followed by "Break Every Rule" (1986) and "Foreign Affair" ( 1989).
The nineties would be the one of his absolute consecration, with tours around the world and surprising duets together with referents of other genres such as Eros Ramazzotti or composing the main song for films such as "Goldeneye" (1995), from the James Bond saga. .
In fact, another of his great passions was being in front of cameras on the big screen, demonstrating his cinematographic skills in films spread over different decades, such as "Gimme Shelter" (1970)"Mad Max III" (1985) or "Last Action Hero" (1993).
The beginning of the 21st century was for her a more spiritual and contemplative stage in which she even threatened to retire, but finally decided to maintain relative silence. Until 2008, when she reappeared in the media spotlight during the Grammy ceremony with an energetic live duet with Beyoncé.
A year later, when he turned 70, he officially retired.
Since then, Tina Turner She focused on her personal life, marrying in Switzerland -where she ended up being nationalized- in 2013, at the age of 73, with the German music producer Erwin Bach, 57, after twenty-seven years of relationship.
He suffered from health problems in the last decade, like colon cancer in 2016 and underwent a kidney transplant just a year later.
The adversities crowded for the rock queen, who last year lost the youngest of his four children, Ronnie, 62, to cancer. Earlier, in 2018, he lost his firstborn, Craig Turner -whom he had with saxophonist Raymond Hill-, who committed suicide at the age of 59.
the one of Tina Turner It was an intense life, of a fireproof but also vulnerable woman who was the focus of attention throughout her career, as evidenced by "What's love got to do with it", the biographical film about her released in 1993, the documentary "Tina" from 2021 or the musical that is still open on the Broadway stages.
Source-www.diariolibre.com