The music producer puerto rican raphy pina is waiting for the verdict of his case after being found guilty of illegal possession of firearms.
It will be on May 16 when it will be known, after the hearing of judgment which was scheduled for this Monday, April 18.
The singer's fiancé Natti Natasha and father of his daughter Vida Isabelle released the information on his Instagram Story.
"Hello to all those who are writing to me about the sentence. The honorable judge moved it to May 16. We continue with faith and receiving your prayers"wrote attaching the capture of the email that indicated the new date.
Federal judge Francisco Besosa postponed the hearing for Monday, May 16, at 1:30 in the afternoon, in his room at the Federal Court located in Old San Juan, according to Puerto Rican media reports.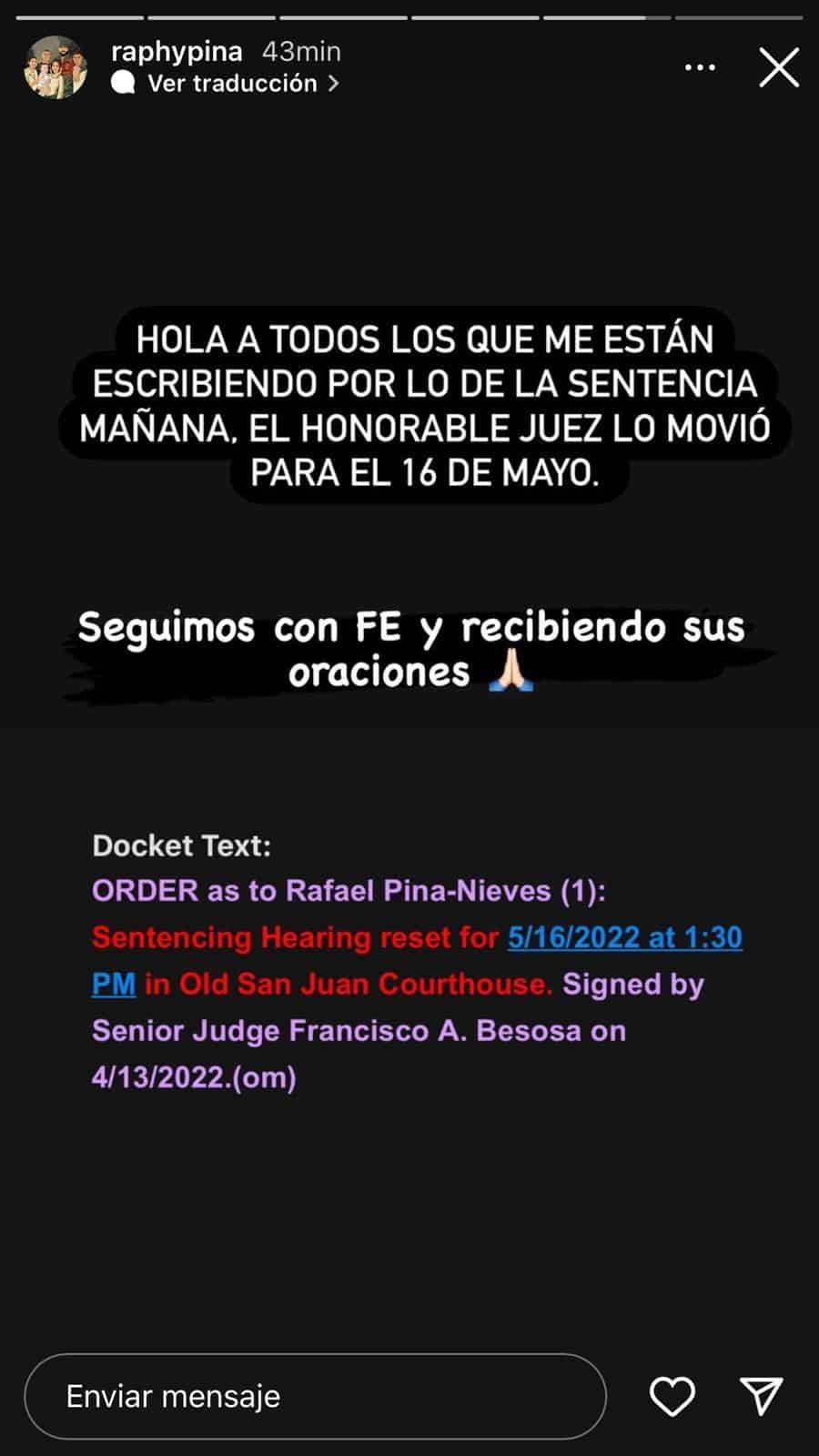 This is the third time it has been postponed. The hearing was going to be on April 1, then it was postponed to April 7 and later scheduled for this Monday, April 18, until the new schedule on May 16.
The federal prosecutor's office asks for around four years in prison after being accused of illegal possession of firearms.
Federal prosecutors María Montañez, José Ruiz and Gregory Conner pointed out that the report presented by the United States Probation Office included a calculation of 33 to 41 months in prison and presented arguments to "recommend a judgment within the variation of the range of judgment from 46 to 50 months in prison".
Charges
In December 2021, a jury of the Federal Court in Hato Rey, Puerto Rico, made up of seven women and five men, found Rafael Pina Nieves, first name of the 43-year-old producer and father of four children, guilty.
raphy pina He faces charges of unlawful possession of an illegally modified firearm and possession of a firearm by a federal convict, as the producer was convicted in 2015 of bank fraud.
waiting for the judgmentPineapple is located in house arrest shackled at his home in Puerto Rico.
So far, Pina Nieves has complied with all bail conditions imposed since he was arrested in August 2020.
The producer has worked with his record label Pina Records with Daddy Yankee, Don Omar, Rakim and Ken-Y, Fran Rozzano, and of course, the singer of "The best version of me."
Source-www.diariolibre.com