WhatsApp is present in almost all cellphones. The instant messaging application keeps thousands of people connected and allows them to share different files. The apps, which is owned by the Meta company, has become a working tool for many users. But what happens when you change numbers? Are the messages deleted or kept? Here we tell you.
Currently, WhatsApp Messenger is the leading real-time communication app in different parts of the world. It can be used on various operating systems, such as Android either iphone. Also, it is updated continuously.
What happens to your WhatsApp messages when you change your number?
According to information from the whatsapp official pagewhen you replace your phone number and use another type of cell phone, the following will happen with your account information.
Your individual and group chats will be transferred to the new account. That is, you will keep all your messages despite the change in WhatsApp number. The profile photo, name and the rest of the data will also remain intact.
The WhatsApp profile that was linked to your old number will be deleted. Thus, your friends will no longer see it in their contact list of the apps instant messaging.
Likewise, in the event that you change your number and continue using the same device, you will be able to keep your chat history on your device.
When you replace the WhatsApp number, the chat history is preserved. Photo: composition LR/Xataka
How is WhatsApp backup created?
Remember that, in order for you to recover messages, you must first verify that there is a backup of your chats. If you have an Android, you must follow the following steps.
Enter WhatsApp and select the three points located in the upper right. Then choose 'Settings', 'Chats' and 'Backup'.
Select the Google account you want to save it to.
Press 'Backup'.
You can then delete your profile and open it with your new number.
In the case of users who have an iPhone, they can create the WhatsApp backup as follows.
Enter WhatsApp and go to 'Settings'. Then go to 'Chats', 'Backup' and 'Back Up Now'.
Remember that you have the option to activate it automatically and on a scheduled basis. You just have to choose the option 'Automatic copy'. After this, choose the frequency you want.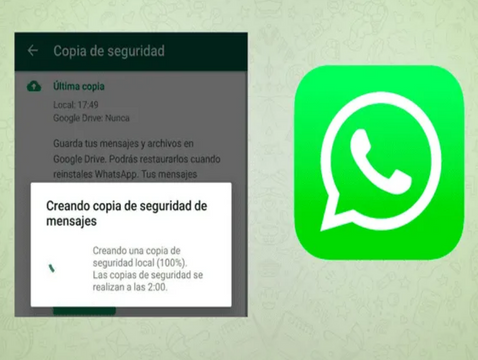 To ensure that your texts are maintained when the number changes, you must create a backup of your chats. Photo: The Republic
Source-larepublica.pe