The name of Carlos Cornejo He is a trend on social platforms as a result of his recent retirement from the television house TV Perú, where he had been working as a newscaster for the channel. This event occurred only 24 hours after the press man stated on national TV that Víctor Santisteban Yacsavilca, the 55-year-old citizen who died days ago during the demonstrations on Av. Abancay, was murdered at the hands of the Peruvian National Police when he exercised his right to protest.
For this reason, in this note, we delve more into his life on and off the screens. In addition, we will tell you who the popular journalist Carlos Cornejo is.
YOU CAN SEE: Carlos Cornejo speaks about his departure from TV Peru: "In March we will know if we will meet again"
Who is Carlos Cornejo?
Carlos Cornejo is a well-known Peruvian journalist who has extensive experience working in the media. After finishing high school, Cornejo decided to study Law, but two years later, he ended up dropping out to finally study Journalism at the University of Lima.
His first experience on TV came in 2001, when he joined Canal N as a host. Some time later, the press man was encouraged to venture into new challenges and decided to enter the radio. This is how he had his first approaches to this medium in the National Radio Coordinator, in Radio San Borja and in radio spaces of the Pontificia Universidad Católica del Perú (PUCP).
Carlos Cornejo began his career in television in 2001. Photo: LR composition/YouTube capture/Canal N/Andina
He even had the opportunity to be a professor at the Peruvian University of Applied Sciences (UPC). In later years, Carlos Cornejo joined América TV as a presenter, but in 2015 he was separated from the television house and had to say goodbye to his audience.
YOU CAN SEE: What happened to Carlos Cornejo, the well-remembered journalist who worked for Canal N and América TV?
The return of Carlos Cornejo to TV
In April 2022, seven years after being away from TV, Carlos Cornejo made his untimely return to the screens leading two new Canal N television formats. One of them was the program "Rimanchik", in which he touched on current issues politics.
In addition, between 2015 and 2022, he did not rest on his laurels, since he founded his project called La Factoría, an independent media outlet that continues today.
Carlos Cornejo affirms that a protester was killed by the Police in protest
Last Monday, January 30, Carlos Cornejo, from his "Rimanchik" television platform on Channel N, in which he touches on political issues and gives his opinion on the current panorama of the country, the communicator assured that the entity responsible for the death of Peruvian Víctor Santisteban Yacsavilca was the PNP.
According to the journalist, Santisteban lost his life after being shot by a projectile by a police officer. Likewise, he affirmed that the protester was not committing acts of vandalism when he suffered the impact.
"They will want to tell us that it was a stone, that it was not them or anything, but the images do not lie. We all saw that the one who killed Víctor in a demonstration where he did nothing was the Policeand the rule of law cannot allow it", he emphasized.
TV Peru decides not to renew Carlos Cornejo's contract
Today, January 31, the National Institute of Radio and Television of Peru (IRTP), announced through a statement that, on the last 30 of this month, Carlos Cornejo's contract ended. In the same way, the message mentions that the communicator was informed about his greeting moments before the broadcast time of the spaces he led.
"The journalist was informed about the beginning of the design and pre-production of the new programming schedule that will be released in March, which implies a restructuring of prime time," says an extract from the letter.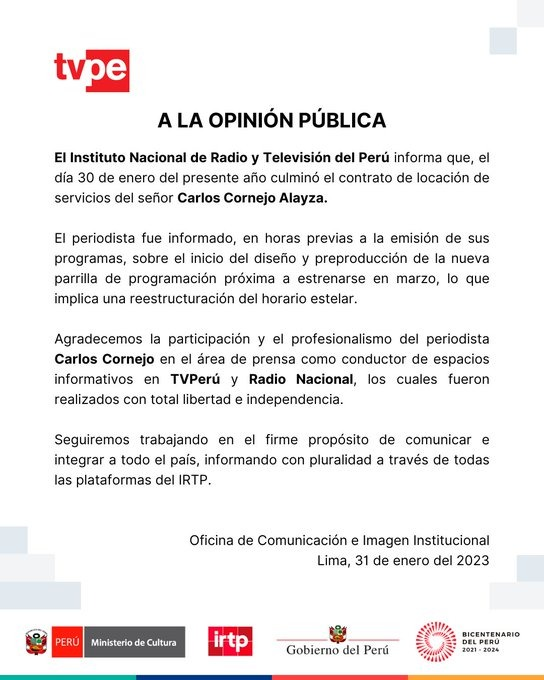 IRTP pronounces on the retirement of Carlos Cornejo from Canal N. Photo: IRTP
Source-larepublica.pe