Macs Cayo was married religiously to his partner Fiorella Giampietri. This last Friday, December 10, the couple said Yes in a romantic ceremony in a church in Lima. Last year, the former member of This is War, revealed very excited on his social networks that he got engaged to his girlfriend. After a year of preparations, the young couple decided to arrive at the altar, more in love than ever.
YOU CAN SEE: Stephanie Cayo confirmed her romance with Maxi Iglesias: "Much more than a treasure" [VIDEO]
Through his official Instagram account, the former reality boy shared some of the magical moments he experienced in his marriage with his now wife Fiorella Giampietri. In their stories their sisters could be seen: Stephanie Cayo, Fiorella Cayo and Barbara Cayo.
Who is Macs Cayo
Mario Cayo or also called Macs, is an outstanding athlete, dancer, and musician. In 2003, he received a scholarship from Stetson University in Deland, Florida, to join the tennis team. The younger brother of the Cayos, he worked with his family at Dance Studio, a dance company founded by his sister Fiorella Cayo.
Macs He was also a reality boy, being thus part of the members of This is war (2013), Combat (2016) and The great show (2012).
On his time on the America competition show, Stephanie commented: "He is very happy, he has a lot of fun and I am always happy for him, he is a very talented boy. I am always afraid that he will get hurt, they sent me a photo of when he was in the ice and I said 'he is going to die' ".
However, after passing through these reality shows, Stephanie's brother announced that he would dedicate himself fully to music and presented his song 'Let yourself go', which did not achieve the success he expected.
Who is Fiorella Giampietri
The now wife of Macs Cayo has a degree in Communication Sciences from the University of Lima. She is considered very creative, with leadership skills, good interpersonal relationships, motivated by challenge, highly reliable and proactive.
He has also mentioned in his social networks that he has a great interest in the audiovisual areas, advertising, marketing and event production. Being so Fiorella giampietri She is also a recognized influencer.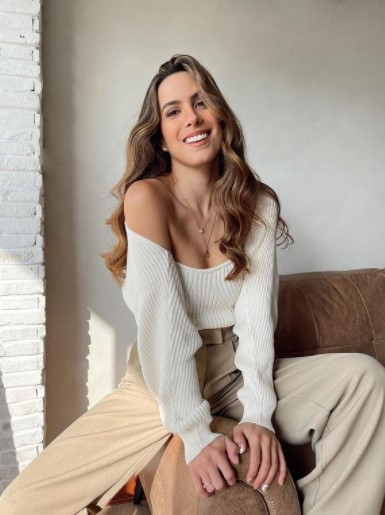 Source-elpopular.pe