Espinar Rose She is one of the most popular folk singers of the genre in the country. Many of her songs are played on provincial stations and sung by many Peruvians. The interpreter from Cusco was a trend for joining the protests in Lima and supporting the protesters from the south, who tour the Historic Center to make her requests heard. Regarding her participation in the marches, we tell more about the life of the young woman who has captivated thousands with her voice.
YOU CAN SEE: Fresialinda, Rosita de Espinar and other artists support protesters from the south: "We are not indifferent"
Who is Rosita de Espinar?
One of the figures most loved by Peruvians is Espinar Rose, who was born in Cusco, in 1982, and is known as 'La diva de América'. A singer by profession, her music has transcended in many regions of Peru, especially in the south of the country.
Rosita de Espinar, folk singer. Photo: Rosita de Espinar/Instagram
She is the daughter of musicians: her parents were well-known artists in the Espinar area, her hometown. For this reason, from a very young age she began to sing and captivate many people with her voice.
He has received proposals abroad and toured some places on the continent. He has also traveled throughout this nation and has performed in massive concerts.
YOU CAN SEE: Who are the artists who support the demonstrations in Lima and demand the resignation of Dina Boluarte?
Rosita de Espinar, her best songs
Currently, he has a wide repertoire with three albums recorded thanks to the support of the Amor Amor Producciones label. Among its main themes, we have:
"Tell me if you're happy"
"Love Sighs"
"I've been told you're alone"
"Custom"
"Cholito bandit"
"nice little boy"
"I do not forgive you"
"You will be my only love you told me" .
Rosita de Espinar in demonstrations
Rosita de Espinar joined the marches in Lima to support the demonstrations in southern Peru. She, along with other artists such as Fresialinda and Yarita Lizeth, left a series of messages with the speech of support for people who ask for reforms in the Government.
YOU CAN SEE: Yarita Lizeth marched in Lima against the Government of Dina Boluarte
"United by our humble-hearted people, but make no mistake, they are hard-working people and we will not be indifferent, we will continue to support. All artists united now more than ever," was his call to other singers in the region to join the protests.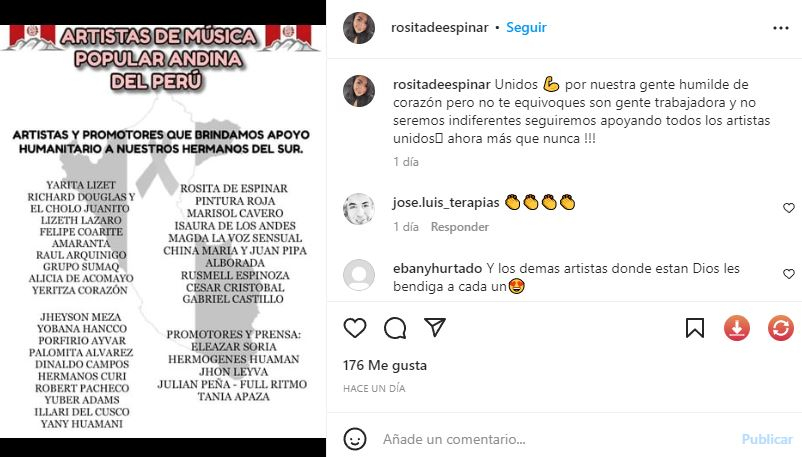 Rosita de Espinar joins protests. Photo: Instagram
The young woman also expressed her solidarity with the people of the provinces and brought them supplies such as food and drinks. "We are not indifferent to our brothers from the south", she put it in one of her posts on her networks.
"We will bring water and food to the Andean communities that have arrived in Lima. (…) When we go to the south, they receive us with affection and admiration, today that they are in Lima, we receive them with affection and understanding," he said.
Source-larepublica.pe