Social networks have become a means of communication par excellence for people and brands, but as in all areas of society, there are users who consciously or unconsciously behave violently, affecting the well-being of the community.
This problem affects women in a peculiar way, who is still fighting for equal rights with men and for the eradication of violence against her.
But what is it digital violence? Why is it given digital violence? What are the different types of violence that affect digital users? Can one be sued? digital violence?
digital violence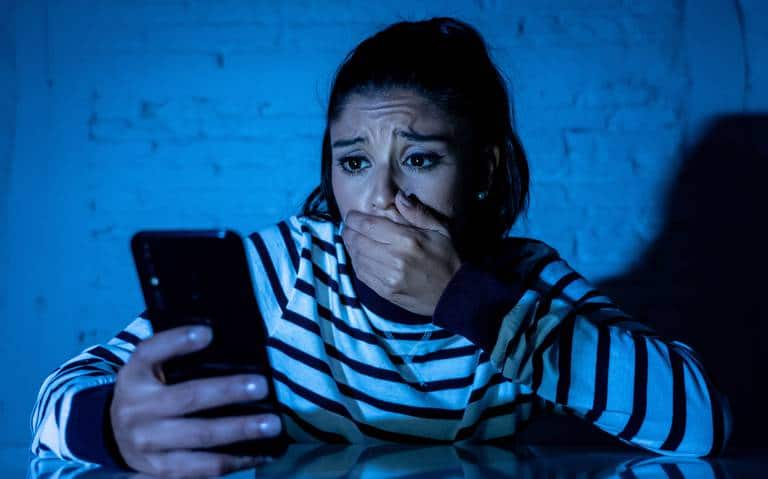 "The digital violence refers to acts of harassment, harassment, threats, insults, violation of data and private information, disclosure of apocryphal data, hate messages, dissemination of sexual content without consent, texts, photographs, videos and/or personal matters or other graphic impressions or sound", affirms the psychologist Jheniffer Moguel Sanchez in an article published by the Anahuac Mayab University.
For her part, the communication adviser, Maylin Dionicio explain to Free Daily that in social networks people feel extremely free to expose their ideas, beliefs, opinions; however, they also share and disseminate anti-values, a situation for which today these platforms have become a scene of harassment and violent behavior.
"Every day we can find comments, photos or videos with offensive jokes, pornography and sexual harassment. Cyberbullying, grooming, sexting, shaming and doxing are forms of violence mainly among young people", says Dionicio.
forms of violence online
sexting: creation, dissemination, distribution or digital exchange of photographs, videos or audio clips of a sexual or intimate nature without consent.
Grooming: sexual harassment of a girl, a boy or an adolescent by an adult person through the internet.
Shaming: Body humiliation is the act of ridiculing or making fun of a person's physical appearance.
Doxing: describe the act of intentionally and publicly disclosing personal information about an individual or organization.
Cyberbullying: is a term used to describe when a child or adolescent is bullied, threatened, harassed, humiliated, embarrassed, or abused by another child or adolescent, over the Internet.
Cyberbullying: performing a series of actions such as spying on, haunting, or collecting information online about someone and engaging in communication with the person without their consent; calling or sending emails or text or voice messages repetitively, including threatening messages or messages that seek to maintain control over the victim.
Cyber ​​bullying: involves the intentional use of ICT to humiliate, annoy, attack, threaten, alarm, offend or insult a person.
On the other hand, Jheniffer Sánchez clarifies that we must not fall into the error of considering that online violence is a separate phenomenon from violence in the 'real' world, since it forms part of the continuous and interconnected manifestations of violence that we experience outside of Internet.
Other forms of online violence
Unauthorized access, use, manipulation, exchange or distribution of personal data.
Impersonation and identity theft.
Acts that damage a person's reputation or credibility.
Acts that involve the surveillance and monitoring of a person.
Direct threats of harm.
Reasons for violence on the internet
The power behind the screen
The Public Image Architecture and Management Specialist states that one of the reasons that causes a user to be violent on the Internet is the "overlapping" that being behind the screen means for many. "There are people who dare to say in this way what they would never dare "face to face"".
Another engine for users to have an aggressive discourse on social networks is the indirect communication that the issuer can exercise from anonymity, even through false identities; promoting discrimination, cruelty, hatred, xenophobia, etc.
"The reach to internet platforms and anonymity become a powerful combination to broadcast texts, images and videos, which can misinform, hurt and manipulate another person"
communication advisor
The communication expert states that not all users intend to be violent, or to affect others with their actions; For this reason there are people who commit digital violence and they don't know they're doing it.
The same happens with the victims, in many cases they do not recognize that they are being attacked. since many acts of violence are "normalized" in our culture.
Filtering images or videos performing a sexual act or displaying the semi-naked or naked body, without consent, is violating a woman's privacy.
Disseminating photos, "memes" or recordings with the intention of intimidating, humiliating or ridiculing a person is violence.
Recording acts of violence in which a female person is hit, assaulted, yelled at, or chased is violence.
Spying on (stalking) a woman's posts, comments, photos and all kinds of information on her social media accounts can be considered harassment. Physical contact or a threat is not necessary, because if it generates discomfort, fear and alteration in the person's life it is also violence.
Report digital crime!
In our country there is a Specialized Prosecutor's Office Against Crimes and High Technology Crimes where digital crimes can be reported.
Complaints can be made to the Department of Investigation of Crimes and High Technology Crimes (Dicat) of the National Police, as well as to the 35 prosecutor's offices nationwide or call (809) 200-1202.
In 2021, the head of the Specialized Prosecutor's Office Against Crimes and High Technology Crimes, Iván Vladimir Féliz Vargas, indicated that in the country gangs that are dedicated to extorting people with videos where their faces are seen in sexual acts or nudes have been dismantled.
"Recognizing digital violence is the first step to combat it. If you feel that your rights have been violated by some type of cyberviolence, seek help and report it. Silence is not the solution"
Source-www.diariolibre.com