Strong and clear. Children's entertainer Yola Polastri turned to her social networks to praise the final of 'The Great Star', but he pointed out a point with which he did not agree. As is known, the cheerleader is aware of all Gisela Valcárcel's programs.
YOU CAN SEE: Yola Polastry disagrees about spreading how much artists earn: "They invite to assault them" [FOTO]
In that same line, Polastry shared a message celebrating the quality of the program hosted by Gisela; however, she did not share that there are two winners.
"Nice ending of 'La Gran Estrella'. But for me there was only one winner. Luxury guests, nice hairstyles. There was good production work. Good luck to those starting their careers. It takes talent and discipline," she wrote on Twitter.
As recalled, Indira Orbegoso and Karla Zapata they got the best scores of the night and became the winners of 'La Gran Estrella', surprising locals and strangers. In an unprecedented event, Gisela Valcárcel announced that they will work with musical productions and the finalists will share the prize.
YOU CAN SEE:Yola Polastry surprises fans with a black and white photo taken in the 80s [FOTOS]
Yola Polastry denounces her imitator of Yo Soy: "She presents herself as if she were me"
In the latest edition of America Today, This Thursday, July 21, the children's entertainer announced legal measures against a young woman who participated in the imitation program, and has been profiting from her image.
"False Yola Polastry, bamba, presenting herself as if she were me. The law will take care of her, false. She has put up a giant sign that says 'Yola', and below it says 'I am' small. (…) It can confuse the public, I'm going to take legal action," he said in a conversation with the program's reporter.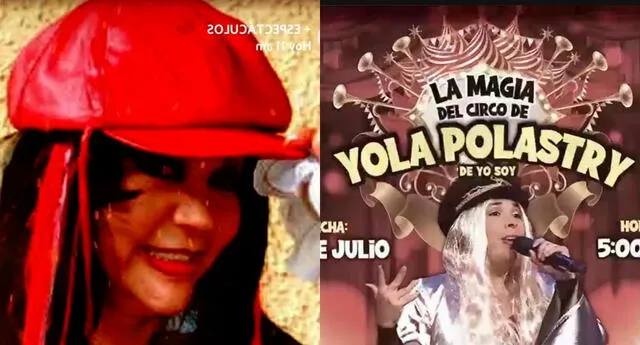 Source-elpopular.pe