During the second world warl, thousands tried to fight, however they could, against the invasion of their territories and the abuses to which their population was subjected. One of these characters, who went down in history for her heroism, was the young Soviet Zinaida Portnova. At 17 years old and seeking revenge, he caused a massive poisoning that killed at least 100 Nazis in the year 1943.
Who was Zinaida Portnova?
Born February 20, 1926 in Leningradwas part of a working family, so at the age of 14 she was sent to live in belarus with his grandmother. However, her plans changed when the Operation Barbarossa spread throughout the Soviet Union.
Zinaida became a hero in Russia. Photo: composition LR/VK
In this way, an event would emerge that marked Zinaida forever, since the abuses committed by the invaders also affected her grandmother, who was brutally beaten. According to the writer Henry Sakaida In her work "Heroines of the Soviet Union", this event gave rise to a hatred of the adolescent towards the German soldiers.
Thus, Portnova joined the "Young Avengers", a clandestine resistance organization, in which he began by distributing anti-Nazi leaflets and carrying out sabotage operations. Quickly, he became an important element of the group.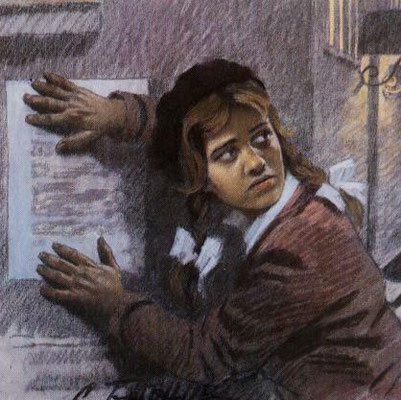 Zinaida Portnova decided to fight the Nazis after they mistreated her grandmother. Photo: Science, Society and Defense Magazine
Thus, in August 1943, he managed to infiltrate a canteen that was visited by Hitler's soldiers. In this way, he waited a few weeks, until he found the most opportune moment and entered the kitchen, where he put rat poison in the pots of food. The poisoning caused at least 100 Nazis lost their lives.
Although Zinaida tried to run away, she was captured and forced to drink from the soup she had tampered with. A few bites after her, she let her go noticing that she didn't show any discomfort. The young woman withdrew to a shelter, where she hastened to drink milk to neutralize the poison.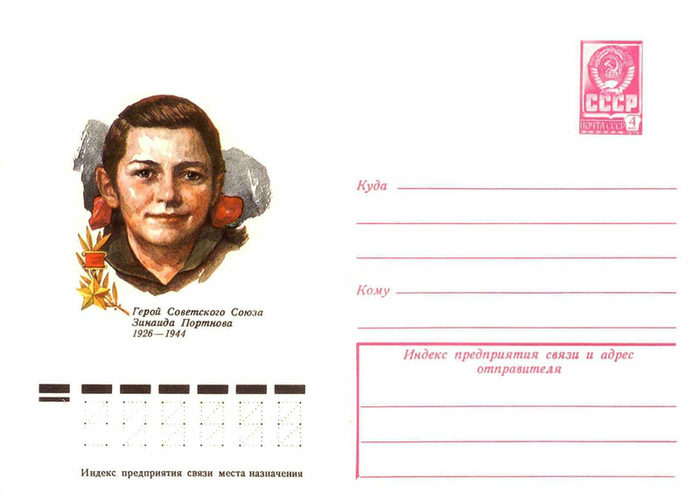 Postcard issued by the USSR in honor of Zinaida Portnova. Photo: LiveJournal
However, her hasty departure and the discovery of the toxic element in the kitchen caused her to be singled out as the main suspect in the death of 100 Nazis. Thus, soldiers of the German army began their search and, along the way, killed some members of the "Young Avengers".
How did Zinaida Portnova die?
Zinaida Portnova was captured a short time later in the city of Obolwhere, despite the fact that she killed a soldier and managed to briefly escape an initial interrogation, she was again arrested and immobilized by a bullet in her leg.
Despite having been interrogated under sadistic acts of torture, Portnova did not confess or provide any information, for which she was shot in a forest on January 15, 1944.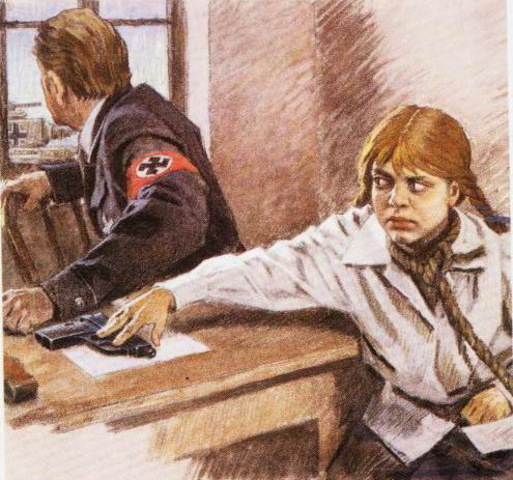 Portnova attempted to flee after being captured, but was pinned down. Photo: Fishki.net
The temper of the young woman led her to be considered a great heroine for the Soviet Union. In 1958, he was officially awarded the title of Hero of the USSR and a monument was erected to him in Vitebsk. Today, several Russian cities, streets and schools remember and honor his name.
Source-larepublica.pe